C&P Exam for PTSD - Combat
VA PTSD Compensation and Pension Examination - Combat
C&P Exam for PTSD - Combat
Here is some advice for veterans who have filed a VA disability benefits claim for combat-related posttraumatic stress disorder (PTSD), and have been scheduled for a Compensation and Pension examination (C&P exam), also known as a VA claim exam. (See also military sexual trauma (MST) PTSD exams.)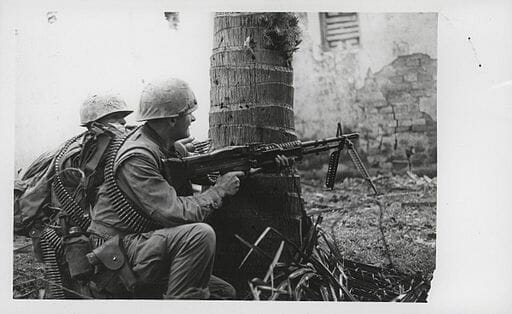 U.S. Marines scan the streets in Vietnam (1968).
Records are Vital for PTSD Compensation
Records are indeed important for a PTSD compensation claim.
* Make sure that the Veterans Benefits Administration (VBA) has obtained all of your military records (medical, psychological, and personnel records), including any treatment by private doctors you saw while on active duty.
+ Ensure that VBA has all of your VA medical records, including Vet Center records if applicable.
==> Note that you must request Vet Center records directly--VBA does not routinely request them, and Vet Center records are not part of Veterans Health Administration (VHA) electronic medical records.
You can ask VBA to obtain your Vet Center records or you can call the Vet Center yourself and ask how you can obtain them. (And then send them to VBA.)
+ Also make sure that VBA has all of your relevant medical records from private doctors, clinics, counselors, substance abuse treatment programs, psychologists, clinical social workers, etc. 
VBA can help get those records for you, but you have to tell them some basic information, such as the name of the doctor, counselor or clinic; their mailing address (or at least the city and state); and when you received treatment.
See how to obtain veterans records for more detailed advice.
Also be sure to regularly review your VA medical records and follow the proper procedures to correct VA medical records if you discover any errors.
If Your C&P Exam is on a Bad Date ...
* If you received a letter giving you an exam date, and that date presents problems for you, e.g., it's hard for you to get off work or to find childcare, call the facility that scheduled the appointment to request a different exam date.
> I use the word 'facility' because the entity scheduling your C&P exam might be a C&P Clinic at a VA medical center, or it might be a third-party contractor such as LHI, VES, or QTC that has arranged for an exam with a psychologist or psychiatrist in private practice.
> If you call promptly, most facilities will find a C&P exam date that works for you. If not, keep detailed notes of your conversation and do your best to attend. Or contact your Veterans Service Officer to see if he or she can help.
What You Should NOT do ...
* Beware of advice you read on the Internet. Yeah, that is an ironic statement since I am offering you advice on the Internet, but I think you know what I mean. Here is some of the bad advice you might see:
~ Don't shave or shower or brush your teeth for a few days before your C&P exam. Don't sleep for two days before the exam date. Wear old dirty clothes. - The #1 rule for C&P exams is: Be real. Don't underplay your problems, and don't exaggerate them. It is not honorable to fake or embellish symptoms, and it usually backfires.
~ Look around frequently as if you are afraid of being attacked. Then they'll know you are hypervigilant and they will diagnose PTSD. - Acting looks like acting. Don't do it.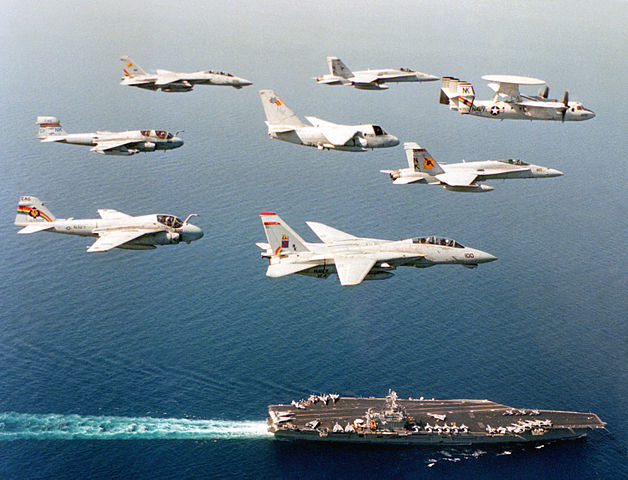 U.S. Navy Carrier Air Wing Fourteen (CVW-14) aircraft from the USS Carl Vinson (CVN-70) fly in formation above their carrier in the Persian Gulf during a deployment.
What You Should Do ...
* If you take psychiatric medications, be sure to keep taking them as prescribed on the days leading up to the exam and on the day of the exam.
* If the examiner asks you to complete questionnaires, tests, inventories, etc., make sure you understand the instructions before you begin answering. Most such questionnaires are fairly easy to understand and complete, just don't rush through them. At the same time, don't agonize over each item. Usually "the first response that comes to your head" will be the best one.
> Neither minimize symptoms and problems nor over-report them. If you're not sure if you have a particular symptom as described on a questionnaire or test, it's probably better to not endorse it.
> If you are asked to complete tasks, such as remembering a group of words, drawing figures, or saying as many birds as you can think of in one minute, do your best. The psychologist will probably know if you pretend to have really bad memory or another cognitive problem.

Bring Someone with You
* Ask your spouse or a friend or other family member who knows you well to go with you to the exam. I offer this recommendation for two reasons:
> For most veterans, a VA Compensation and pension examination for Posttraumatic Stress Disorder is a stressful experience. Bring someone who will support you.
~ If after the exam you feel overwhelmed, extremely anxious, very depressed, etc., consider calling the Veterans Crisis Line [1-800-273-8255 and Press 1; they also offer support via chat, or text: send a text message to 838255], or the War Veterans Call Center [1-877-WAR-VETS, which is 1-877-927-8387], which is run by the Vet Center Program specifically for combat veterans and MST survivors.
> Some examiners will interview your significant other as part of the exam. I personally believe that C&P psychologists and psychiatrists should always interview a veteran's spouse or other family member if the veteran requests it.
> But some examiners are so pressed for time that they really can't fit it in, while others won't conduct family interviews because they do not believe it adds to the evaluation results. (I disagree, but I don't make the rules). It is up to the examiner to decide.

Polite, Courteous, Real
* Arrive on time; be polite and cooperative; answer all questions honestly, clearly, and completely.
> Most of you will comply with this recommendation anyway.
> But just in case, note that C&P examiners deal with a certain amount of entitlement, exaggeration, and fraud as part of their jobs, so when they interview a veteran who is clearly straight-forward and sincere (which applies to most vets), they relax, and are much more likely to conduct a thorough exam, and write a complete, persuasive report that itemizes the symptoms and problems PTSD causes you.

If You Get a Bad Examiner ...
* If you get a 'bad' examiner, i.e., someone who is rude, condescending, abrupt, conducts a cursory interview, etc., do your best to answer questions completely, and just get through it.
Then, as soon after the exam as possible, write down everything you can remember about what the psychologist or psychiatrist said to you.
Use direct quotes if you remember his or her exact words.
Write down his or her demeanor (how they looked - facial expression, body language), how he or she responded to your questions, and how much time the exam took.
If he or she was more than 10 minutes late, write that down too.
> Type what you wrote when you can (or ask someone to type it out.)
> Share your summary with your Veterans Service Officer, and seek his or her advice on what to do. Consider filing a formal complaint with the VA medical center (if the exam was at a VA) or the IME company (contractor) who referred you to the psychologist or psychiatrist. Send a copy of the complaint to the VBA Regional Office handling your claim.
~ Make sure you send your letter in a way that gives you proof that it was received, e.g., U.S. Postal Service Certified Mail with Signature Confirmation and Return Receipt, or similar service via FedEx or UPS.

Alcohol & Other Drug Use
* HadIt.com had an article on their website offering advice to veterans scheduled for a C&P PTSD exam. (Btw, the HadIt.com discussion forums are were a great source of support and advice, but the website is no longer.)
I do not recommend following this piece of advice in the article.
"Do not talk about alcohol or drug related issues. You are not there to be assessed for those problems. You are there to be assessed for your psychiatric functioning as today relates to your service history. If the examiner asks about alcohol or drugs, politely remind them that you are not there for those issues, if you've ever had them, but for how impaired you are in your daily functioning. It's best to avoid even talking about them."
> I think I understand where the author is coming from--some examiners, particularly in the past, would try to blame an alcohol or other drug problem for all of a veteran's symptoms and difficulties. Such an inappropriate bias may still exist with some examiners. If so, write down what happened during the exam as I mentioned above.
> Otherwise answer questions about alcohol and other drug use honestly and completely. In my experience, most veterans suffering from substance abuse and PTSD developed the alcohol/drug problems after or along with PTSD. Consequently, if the examiner documents this relationship, then you may very well receive service connection for PTSD and the substance abuse condition(s), and the functional impairment you suffer from both PTSD and substance abuse will 'count' toward your disability rating.

Other Websites with Great Advice
* Ask questions on Veterans Benefits Network Forums in the PTSD Specific Discussions section. (Be sure to register for the forum and read the rules, before you post a question.) The veterans on that site provide sound advice, and are a great source of support. It's a forum for veterans, run by veterans.
* Read veterans law attorney Chris Attig's 10 Tips to Help You Keep the C&P Exam in Perspective. He offers great advice from a legal perspective, which is entirely consistent with the suggestions I provide from a psychological perspective.


C&P PTSD Exam (Combat)
---

Google Sign-in icon
I value your feedback!
If you would like to comment, ask questions, or offer suggestions about this page, please feel free to do so. Of course, keep it clean and courteous.
You can leave an anonymous comment if you wish—just type a pseudonym in the "Name" field.
If you want to receive an email when someone replies to your comment, click the Google Sign-in icon on the lower right of the comment box to use Google Sign-in. (Your email remains private.)
↓ Please comment below! ↓