PTSD Clinical Research
This page features a curated list of recent PTSD clinical research articles published in peer-reviewed medical and psychological journals, with an emphasis on PTSD treatment for military veterans and their families.
Recent PTSD Clinical Research
---
Predictors of Post-Discharge Suicide Attempt Among Veterans After Intensive PTSD Treatment
Citation
Stefanovics, Elina A. and Robert A. Rosenheck. "Predictors of Post-discharge Suicide Attempt Among Veterans Receiving Specialized Intensive Treatment for Posttraumatic Stress Disorder". Journal of Clinical Psychiatry 80, no. 5 (2019):19m12745. https://doi.org/10.4088/JCP.19m12745

Abstract
Objective: There has been increasing concern about the high risk of suicide among US veterans, especially those with posttraumatic stress disorder (PTSD). Among those at greatest risk are veterans recently discharged from inpatient or specialized intensive treatment programs, but little is known about clinical correlates of suicide attempts among such veterans and this information that might facilitate prevention efforts.
Methods: National program evaluation data were obtained at program entry and 4 months after discharge from 30,384 veterans from 57 sites (fiscal years 1993–2011) who were discharged from specialized intensive PTSD programs nationally in the Veterans Health Administration.
Rates of attempted suicide were 10.6% in the 4 months prior to admission and 3.4% in the 4 months following discharge. Bivariate analyses and multivariable logistic regression were used to identify baseline characteristics, especially PTSD symptoms, associated with suicide attempts prior to admission and after discharge.
Further analyses examined the association of changes in symptoms and other outcomes with reported post-discharge suicide attempts.
Results: Suicide attempts both prior to admission and after discharge were associated with psychiatric and substance abuse comorbidity and especially suicidal ideation and violent behavior.
Clinical changes independently associated with post-discharge suicide attempts included increased suicidal thoughts (β = 0.96, P < .001), violent behavior (β = 0.49, P < .001), and alcohol use (β = 0.56, P < .001).
Conclusions: In this longitudinal study, violent behavior assessed at admission and as a change measure after discharge, along with suicidal ideation and alcohol use, were associated with suicide attempts.
Additional therapeutic attention to violent behavior and alcohol use, quite likely reflecting underlying impulsivity, may help reduce the risk of suicide attempts.
Author Information
Both authors are affiliated with:
Department of Veteran Affairs, New England Mental Illness Research Education and Clinical Center (MIRECC), West Haven, Connecticut.


Department of Psychiatry, Yale University School of Medicine, New Haven, Connecticut.
* Corresponding author:
Elina A. Stefanovics, PhD, Yale University School of Medicine, VA Connecticut Healthcare System/116A, 950 Campbell Ave, West Haven, CT 06516 (elina.stefanovics@yale.edu).
---
PTSD and Problem Alcohol Use
Citation
Berke, Danielle S., Julie Yeterian, Candice Presseau, Luke Rusowicz-Orazem, Nora K. Kline, William P. Nash, and Brett T. Litz. Dynamic Changes in Marines' Reports of PTSD Symptoms and Problem Alcohol Use Across the Deployment Cycle. Psychology of Addictive Behaviors 33, no. 2 (2019): 162-170. https://doi.org/10.1037/adb0000430

Abstract
Posttraumatic stress disorder (PTSD) and alcohol misuse are commonly co-occurring problems in active-duty service members (SMs) and veterans.
Unfortunately, relatively little is known about the temporal associations between these problems in the acute period following exposure to combat stressors.
Discerning the temporal associations between these problems across the deployment cycle could inform prevention and treatment efforts.
In this study, we examined the association between PTSD symptom severity and problem alcohol use in a large cohort of United States Marines (n = 758) evaluated prior to deployment and approximately 1, 5, and 8 months postdeployment.
Results indicate that problem alcohol use was associated with a subsequent exacerbation of PTSD symptoms between the 1st and 2nd and 2nd and 3rd postdeployment assessments.
PTSD symptom severity was associated with increased problem alcohol use between the 1st and 2nd postdeployment assessments.
These findings suggest that problem drinking may lead to new onset or worsening of PTSD symptoms over time and that SMs [Service Members] with greater PTSD symptom severity upon returning from deployment may increase alcohol use in the weeks immediately following homecoming. 

Comment
The relationship between PTSD and substance use disorders is an important factor in PTSD C&P exams. If a veteran's posttraumatic stress disorder is service-connected, and if the veteran also suffers from a substance use disorder, the VA mental health examiner must determine if the substance use disorder is "proximately due to or the result of" PTSD or if PTSD has aggravated a pre-existing substance use disorder.1
This research suggests, at least with this cohort of U.S. Marines, that the causal relationship goes both ways. 


---
Treating PTSD in Military Personnel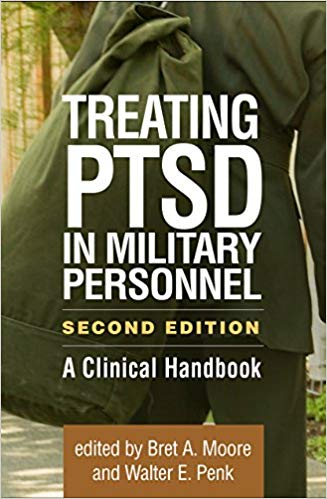 Treating PTSD in Military Personnel, Second Edition: A Clinical Handbook
Moore, Bret A. and Walter E. Penk, eds. Treating PTSD in Military Personnel, Second Edition: A Clinical Handbook. New York: Guildford, 2019. [Publication date: 3 Apr 2019] 
Pre-order from Guilford Press for $38.75 (List price: $45.00).
Description (from publisher):
This state-of-the-science guide to assessing and treating posttraumatic stress disorder (PTSD) in active-duty service members and veterans has now been extensively revised with 65% new material.
Leading authorities review available evidence-based treatments, including individual, group, and couple and family therapy approaches.
Knowledge about military culture, the stressors experienced by service members, and common challenges for both military and civilian practitioners is woven through the volume and reflected in the vivid case examples.
Chapters on specific clinical issues delve into co-occurring affective, anxiety, substance use, and sleep disorders; treatment of particular types of trauma; suicide prevention; and more.
New to This Edition
Chapters on additional treatments: mindfulness-based behavioral and cognitive therapies, stress inoculation training, cognitive-behavioral conjoint therapy, group therapy, and complementary and alternative therapies.
Chapters on additional clinical issues: chronic pain, moral injury, complex traumatic stress disorders, and posttraumatic growth.
Updated throughout with the latest treatment research and DSM-5 diagnostic changes.
Review by Dr. Brian Marx
"Moore and Penk have once again assembled a 'who's who' of leading researchers to present the latest on evidence-based treatments for PTSD in military personnel. The second edition of this handbook is an absolute 'must read' for anyone who provides care to this population. The detailed insights into important considerations for working with military personnel, careful attention to clinical issues that frequently co-occur with PTSD, and clearly presented case examples that illustrate how to implement the various treatments successfully are what make this volume stand apart."
—Brian P. Marx, PhD, National Center for PTSD, VA Boston Healthcare System; Department of Psychiatry, Boston University School of Medicine.


Footnotes
1. Disabilities that are proximately due to, or aggravated by, service-connected disease or injury, 38 C.F.R. § 3.310. 
---
What Do You Think?
Sign-in icon
I value your feedback!
If you would like to comment, ask questions, or offer suggestions about this page, please feel free to do so. Of course, keep it clean and courteous.
You can leave an anonymous comment if you wish–just type your first name.
If you want to receive an email when someone replies to your comment, click the icon on the lower right of the comment box to use Google Sign-in. (Your email remains private.)