About PTSDexams.net
Purpose
To provide current, high-quality information about Department of Veterans Affairs (VA) disability exams for posttraumatic stress disorder (PTSD) and other mental disorders.
Intended Audience
Psychologist and Psychiatrist Disability Examiners - The mental health professionals who conduct the vast majority of VA claim exams for PTSD and other mental disorders.

(Articles of interest to psychiatrists and psychologists are organized under the Psych tab.)

~ ~ ~
Veterans Service Officers - The professionals who help veterans file well-documented claims for VA disability benefits.
Veterans Law Attorneys & VA-accredited Claim Agents - The professionals who help veterans appeal flawed claim decisions.
(Articles of interest to veterans service officers, claim agents, and attorneys are organized under the Legal tab.)
~ ~ ~

Veterans and Their Families - Practical suggestions and information for the men and women who have put their lives on the line to protect the rest of us.
(Articles of interest to veterans and their family members are organized under the Vets tab.)


---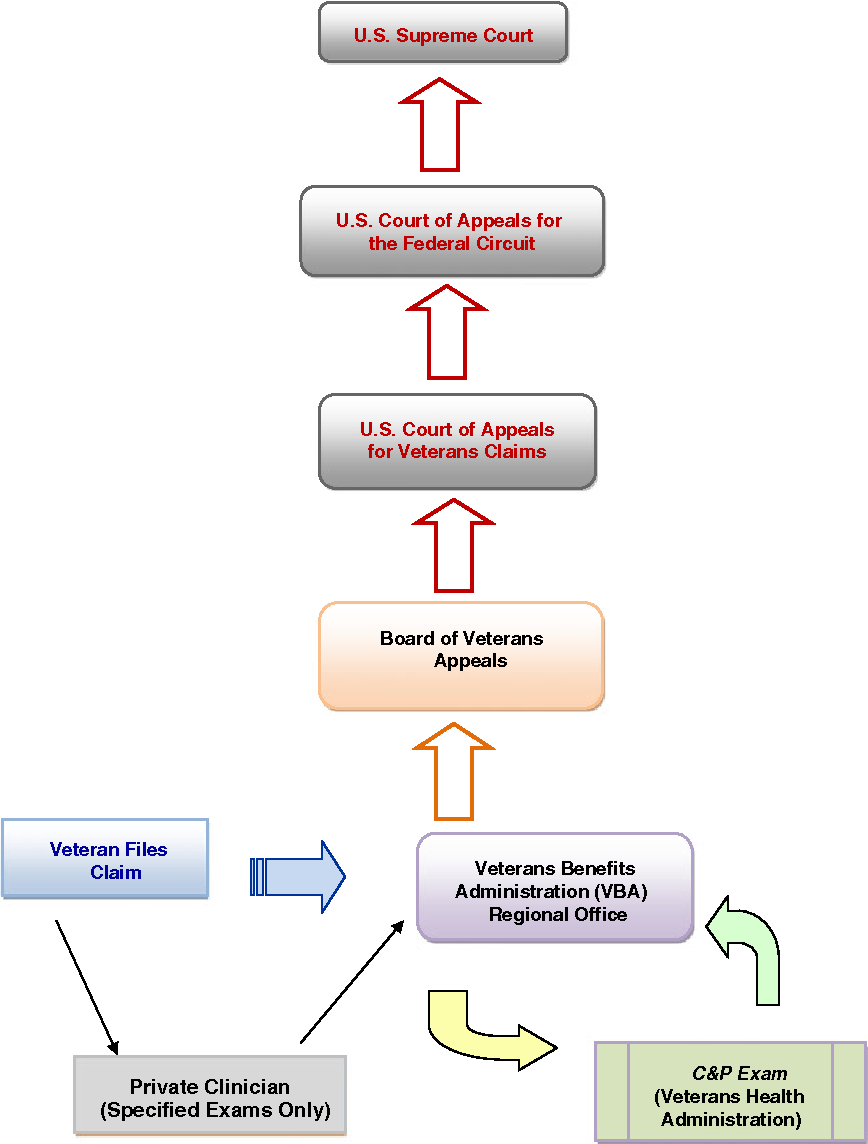 VA Disability Claim Legal Process
The image above is from this article:
Worthen, Mark D. and Robert G. Moering. "A Practical Guide to Conducting VA Compensation and Pension Exams for PTSD and Other Mental Disorders". Psychological Injury and Law 4, no. 3-4 (2011): 187–216. https://doi.org/10.1007/s12207-011-9115-2 | https://perma.cc/VBX2-SPTW (PDF)


---
Author
Mark D Worthen PsyD - Dr. Worthen is a clinical-forensic psychologist in private practice. He worked for over five years as a full-time C&P examiner with the Veterans Health Administration.
Dr. Worthen and a colleague, USMC combat veteran Robert G. Moering PsyD, wrote the first peer-reviewed journal article describing how to conduct compensation and pension examinations for PTSD and other mental disorders. (See citation, above.)


---
Disability Exam or C&P Exam?
You will see a variety of terms that describe the same thing.
It seems that the two most common phrases are "C&P exam" and "veterans disability exam".
Here are terms I've seen:
Compensation and Pension examinations
C&P exams
DBQ (disability benefits questionnaire)α
Disability benefits exams
Independent psychological examinations (IPE)
Independent medical examinations (IME)
Mental disorder exams
Mental health disability exams
Nexus lettersß
PTSD exams
VA claim exams
Veterans benefits exams
Footnotes
α. Disability Benefits Questionnaires (DBQs) are VA Forms on which examiners report most of their findings and conclusions. Thus, a DBQ is a reporting form, not the exam itself.
ß. A "nexus letter" means different things to different people. Originally it meant a letter written by a doctor giving his or her opinion that a veterans current illness or injury had its nexus during the veteran's military service.
The term still has that meaning, but for PTSD and other mental disorders, psychologists and psychiatrists will, in almost all cases, want to conduct a full evaluation and review all relevant records before forming an opinion regarding nexus.

Definition of "Nexus"
The word "nexus" means a connection, link, bond, tie, or junction, or a means of connection between things or parts.
The best definition in the context of VA disability claims comes from Merriam-Webster: "a causal link".
Or, from the Merriam-Webster Law Dictionary, "a connection or link between things, persons, or events especially that is or is part of a chain of causation".
The word "nexus" is a verbal noun formed from the past participle of the Latin verb nectere, which means "to bind or connect".
References
Editors of the American Heritage Dictionaries. American Heritage Dictionary of the English Language. 5th ed. Boston: Houghton Mifflin Harcourt, 2018. https://ahdictionary.com/word/search.html?q=nexus
Merriam-Webster Dictionary, https://www.merriam-webster.com/dictionary/nexus
Oxford English Dictionary. 3rd ed. Oxford, England, UK: Oxford University Press, 2003. https://oed.com/view/Entry/126677
---

Google Sign-in icon
I value your feedback!
If you would like to comment, ask questions, or offer suggestions about this page, please feel free to do so. Of course, keep it clean and courteous.
You can leave an anonymous comment if you wish—just type a pseudonym in the "Name" field.
If you want to receive an email when someone replies to your comment, click the Google Sign-in icon on the lower right of the comment box to use Google Sign-in. (Your email remains private.)
↓ Please comment below! ↓