Disability Exams Research
This page highlights new disability exams research published in peer-reviewed academic journals, books, and related publications.1,2
Also see the PTSD Clinical Research page on this website, as some of the insights garnered from treatment studies can help inform evidence-based assessment of veterans seeking service-connected disability benefits.
WHODAS 2.0 & PTSD Disability Assessment
Citation
Bovin, Michelle J., Eric C. Meyer, Nathan A. Kimbrel, Sarah E. Kleiman, Jonathan D. Green, Sandra B. Morissette, Brian P. Marx. "Using the World Health Organization Disability Assessment Schedule 2.0 to Assess Disability in Veterans with Posttraumatic Stress Disorder". PLoS ONE 14, no. 8 (2019): e0220806. https://doi.org/10.1371/journal.pone.0220806 (open access)

Quick Summary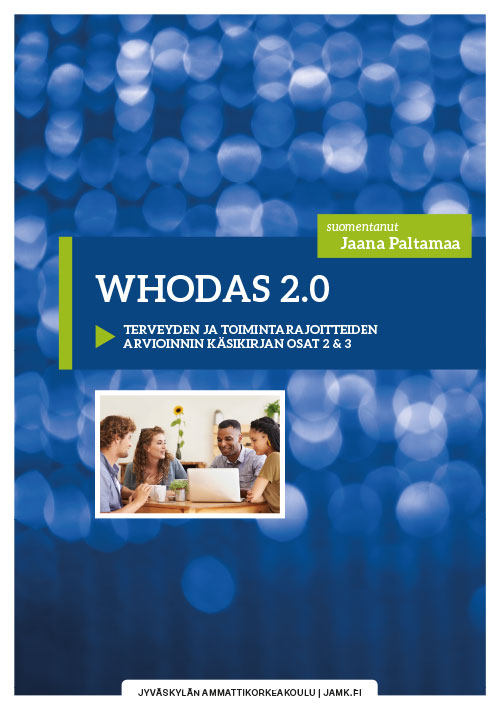 WHODAS 2.0 Manual - Finnish version
WHODAS 2.0 demonstrated criterion validity with interviewer assessment of functional impairment (as part of CAPS-IV or CAPS-5 structured diagnostic interviews).

In addition, veterans diagnosed with PTSD had significantly higher WHODAS 2.0 scores (greater functional impairment) than veterans not diagnosed with PTSD.
From the article, here are WHODAS 2.0 gender and age cutoff scores for categorizing veterans as exhibiting significant PTSD-related functional impairment. The cut scores below balance sensitivity and specificity.
WHODAS 2.0 Cut-off Scores
| | |
| --- | --- |
| Group | Most efficient cut score |
| Men age 18–34 | 32 |
| Men age 35–59 | 31 |
| Men age 60+ | 32 |
| Women age 18–34 | 28 |
| Women age 35–59 | 34 |

Important notes about the WHODAS 2.0 cut score table immediately above, which I derived from the disability exams research under discussion here.
* As with any measurement instrument, there is always a standard error of measurement (SEM). Consequently, one should not use cut scores in a rigid manner, since a score of 32, for example, actually represents a range of scores. (I could not determine the range based on the statistics provided in the article.)
* In a previous study with veterans undergoing an Initial C&P exam for PTSD (compensation-seeking veterans), the most efficient WHODAS 2.0 cutoff score was 40.α
* The WHODAS 2.0 score should constitute one piece of information regarding functional impairment in the context of a multimethod, evidence-based psychological evaluation.
* If you conduct compensation and pension examinations (C&P exams) with veterans seeking service-connected disability benefits for PTSD, you should read the article to determine what you believe to be the most appropriate cutoff scores to use for a disability exam.
I personally believe the most efficient cut score is the most appropriate to use for disability exams, but one could argue for higher sensitivity or higher specificity. 
* The sample size was too small to calculate utility statistics for older women (age 60+).
Abstract
The introduction of the Diagnostic and Statistical Manual of Mental Disorders (DSM-5) was accompanied by the elimination of the Global Assessment of Functioning (GAF) scale, which was previously used to assess functioning.
Although the World Health Organization Disability Assessment Schedule, Version 2.0 (WHODAS 2.0) was offered as a measure for further study, widespread adoption of the WHODAS 2.0 has yet to occur.
The lack of a standardized instrument for assessing posttraumatic stress disorder (PTSD)-related disability has important implications for disability compensation. Accordingly, this study was designed to determine and codify the utility of the WHODAS 2.0 for assessing PTSD-related disability.
Veterans from several VA medical centers (N = 1109) were included. We examined PTSD using several definitions and modalities and considered results by gender and age.
Across definitions and modalities, veterans with PTSD reported significantly greater WHODAS 2.0 total (large effects; all ts > 6.00; all ps < .01; all Cohen's ds > 1.03) and subscale (medium-to-large effects; all ts > 2.29; all ps < .05; all Cohen's ds > .39) scores than those without PTSD.
WHODAS 2.0 scores did not vary by gender; however, younger veterans reported less disability than older veterans (small effects; all Fs > 4.30; all ps < .05; all η2s < .05).
We identified 32 as the optimally efficient cutoff score for discriminating veterans with and without PTSD-related disability, although this varied somewhat by age and gender.
Findings support the utility of the WHODAS 2.0 in assessing PTSD-related disability.

Key Points
* "Our findings will therefore allow disability examiners to use the WHODAS 2.0 in concert with a measure of PTSD symptom severity ... to establish whether individuals have clinically significant PTSD-related disability in addition to PTSD symptom levels consistent with the PTSD diagnosis." (p. 12 of PDF; 6th paragraph of Discussion section).
* "For younger women, cutoff scores of 28–34 demonstrated the same psychometric properties, and for mid-aged women, 34 was the optimally efficient cutoff score." (p. 12)

Comment
This is important disability exams research that is directly applicable to VA C&P exams for PTSD and other mental disorders.
Note that the authors of this article describe the PTSD Checklist for DSM-5 (PCL-5) as "a measure of PTSD symptom severity", which certainly is an accurate statement.
At the same time, one must remember that the PCL-5 is a screening instrument. Disability examiners should not determine a definitive diagnosis based on PCL-5 results alone.
The Department of Veteran's Affairs' National Center for PTSD website emphasizes this point:
The PCL-5 has a variety of purposes, including:

Monitoring symptom change during and after treatment

Screening individuals for PTSD

Making a provisional PTSD diagnosis

The gold standard for diagnosing PTSD is a structured clinical interview such as the Clinician-Administered PTSD Scale for DSM-5 (CAPS-5). When necessary, the PCL-5 can be scored to provide a provisional PTSD diagnosis.
WHODAS 2.0 Resources
WHODAS 2.0 main page (World Health Organization website).
WHODAS 2.0 Manual - Note that the scoring instructions on page 41 are no longer correct. Use the spreadsheet below. Or hand-score—it's a 5-point Likert scale (0–4).
WHODAS 2.0 Scoring Spreadsheet (.xlsx) - It's the Excel file format, but it should work with Google Sheets too.
Footnote
α. Marx, Brian P., Erika J. Wolf, Michelle M. Cornette, Paula P. Schnurr, Marc I. Rosen, Matthew J. Friedman, Terence M. Keane, and Theodore Speroff. "Using the WHODAS 2.0 to Assess Functioning Among Veterans Seeking Compensation for Posttraumatic Stress Disorder." Psychiatric Services 66, no. 12 (2015): 1312-1317. http://www.ptsd.va.gov/professional/articles/article-pdf/id44442.pdf
---
MMPI-2-RF Validity Scale Scores Across VA Medical Centers & Clinics
Citation
Ingram, Paul B., Anthony M. Tarescavage, Yossef S. Ben-Porath, and Mary E. Oehlert. "Patterns of MMPI-2-Restructured Form (MMPI-2-RF) Validity Scale Scores Observed Across Veteran Affairs Settings". Psychological Services, epub ahead of print, 28 Feb 2019. https://doi.org/10.1037/ser0000339

Abstract
The purpose of this investigation is to provide descriptive information on veteran response styles for a variety of VA referral types using the Minnesota Multiphasic Personality Inventory (MMPI)-2-Restructured Form (MMPI-2-RF), which has well-supported protocol validity scales.
The sample included 17,640 veterans who were administered the MMPI-2-RF between when it was introduced to the VA system in 2013 until May 31, 2015 at any VA in the United States.
This study examines frequencies of protocol invalidity based on the MMPI-2-RF's validity scales and provides comprehensive descriptive findings on validity scale scores within the VA.
Three distinct trends can be seen.
First, a majority of the sample did not elevate any of the validity scales beyond their recommended interpretive cut-scores, indicating that scores on the substantive scales would be deemed valid and interpretable in those cases.
Second, elevation rates are higher for the overreporting scales in comparison to the underreporting and non-content-based invalid responding scales.
Lastly, a majority of those with an elevation on one overreporting validity indicator also had an elevation on at least one other overreporting scale.
Implications for practice and the utility of the MMPI-2-RF within the VA are discussed.


Comments
* The authors clearly understand the influence of the compensation claim process on self-reported psychiatric symptoms. For example:
... even in ... non-compensation evaluations, where an incentive to engage in non-credible responding may not be apparent, veterans are likely to be aware the results will be integrated into their medical record and may be considered during a subsequent compensation and pension evaluation (for a comprehensive review of the compensation and pension process see Worthen & Moering, 2011)." "Higher elevation rates on MMPI-2-RF over-reporting scales may reflect the potential for secondary gain because the service-related disability compensation assessment process is intermingled with assessments conducted for treatment provision at the VA (e.g., Ray, 2017)."
Good video posted by VBA explaining the VA claim exam (C&P exam) process.
* The authors were not able to compare MMPI-2-RF scores conducted as part of a C&P exam for PTSD or other mental disorders because few of the test results were coded specifically for a C&P Clinic. 
I suspect that some of the "stop codes" associated with the MMPI-2-RF administrations, e.g., "Internal Medicine", "MH Clinic", "Individual Psychology", and "MH Consultation" reflect testing conducted during a C&P exam. I base this educated guess on the fact that administratively, C&P Clinics fall under a variety of Services, e.g., Primary Care Services and Mental Health Services.
  
---
Mild TBI Assessment: MoCA Validity
Citation
Waldron-Perrine, Brigid, Nicolette M. Gabel, Katharine Seagly, A. Zarina Kraal, Percival Pangilinan, Robert J. Spencer, and Linas Bieliauskas. "Montreal Cognitive Assessment as a Screening Tool: Influence of Performance and Symptom Validity". Neurology: Clinical Practice, published ahead of print, 5 Mar 2019. https://doi.org/10.1212/CPJ.0000000000000604

Abstract
Background: We evaluated Montreal Cognitive Assessment (MoCA) performance in a veteran traumatic brain injury (TBI) population, considering performance validity test (PVT) and symptom validity test (SVT) data, and explored associations of MoCA performance with neuropsychological test performance and self-reported distress.
Methods: Of 198 consecutively referred veterans to a Veterans Administration TBI/Polytrauma Clinic, 117 were included in the final sample. The MoCA was administered as part of the evaluation. Commonly used measures of neuropsychological functioning and performance and symptom validity were also administered to aid in diagnosis.
Results: Successively worse MoCA performances were associated with a greater number of PVT failures (ps < 0.05). Failure of both the SVT and at least 1 PVT yielded the lowest MoCA scores. Self-reported distress (both posttraumatic stress disorder symptoms and neurobehavioral cognitive symptoms) was also related to MoCA performance.
Conclusions: Performance on the MoCA is influenced by task engagement and symptom validity. Causal inferences about neurologic and neurocognitive impairment, particularly in the context of mild TBI, wherein the natural course of recovery is well known, should therefore be made cautiously when such inferences are based heavily on MoCA scores.
Neuropsychologists are well versed in the assessment of performance and symptom validity and thus may be well suited to explore the influences of abnormal performances on cognitive screening.
---
Forensic Perspective on Disability Evaluations
Citation
Davis, Karen M. and Michael B. Lister. Conducting Disability Evaluations with a Forensic Perspective: the Application of Criminal Responsibility Evaluation Guidelines. Psychological Injury and Law. Published ahead of print, 31 Jan 2019. https://doi.org/10.1007/s12207-019-09343-z
Abstract
Although the goals of disability and criminal responsibility evaluations differ greatly, both evaluations require determining whether an individual evidences genuine impairment that aligns with a legal definition and the extent to which mental health symptoms impact the individual's functioning.
Recommendations for how to conduct criminal responsibility evaluations often include a multi-step process for completing an objective evaluation that thoroughly addresses the clinical and legal issues at hand.
Forensic recommendations also emphasize the need to evaluate the extent to which reported symptoms are genuine and how to determine whether the clinical presentation aligns with the legal standard at issue.
This paper will illustrate how recommendations for conducting criminal responsibility evaluations can be applied to disability evaluations done to determine whether someone should receive accommodations under the Americans with Disabilities Act (1990) to ensure a thorough assessment that addresses relevant clinical issues and legal standards.
---
Moral Injury: an Integrative Review
Citation
Griffin, Brandon J., Natalie Purcell, Kristine Burkman, Brett T. Litz, Craig J. Bryan, Martha Schmitz, Claudia Villierme, Jessica Walsh, and Shira Maguen. Moral Injury: an Integrative Review. Journal of Traumatic Stress. Published ahead of print, 28 Jan 2019. https://doi.org/10.1002/jts.22362
Abstract
Individuals who are exposed to traumatic events that violate their moral values may experience severe distress and functional impairments known as "moral injuries."
Over the last decade, moral injury has captured the attention of mental health care providers, spiritual and faith communities, media outlets, and the general public. Research about moral injury, especially among military personnel and veterans, has also proliferated.
For this article, we reviewed scientific research about moral injury. We identified 116 relevant epidemiological and clinical studies.
Epidemiological studies described a wide range of biological, psychological / behavioral, social, and religious / spiritual sequelae associated with exposure to potentially morally injurious events.
Although a dearth of empirical clinical literature exists, some authors debated how moral injury might and might not respond to evidence‐based treatments for posttraumatic stress disorder (PTSD) whereas others identified new treatment models to directly address moral repair.
Limitations of the literature included variable definitions of potentially morally injurious events, the absence of a consensus definition and gold‐standard measure of moral injury as an outcome, scant study of moral injury outside of military‐related contexts, and clinical investigations limited by small sample sizes and unclear mechanisms of therapeutic effect.
We conclude our review by summarizing lessons from the literature and offering recommendations for future research.
Comment
Although "moral injury" is not an official diagnosis, psychologists often discuss the concept when evaluating military veterans who have filed a PTSD disability claim with the Department of Veterans Affairs (VA).
---
Disability Examinations Require Forensic Psychology Competence
Citation
Ohio Board of Psychology. Work Disability Examinations: Forensic Psychology Competence and Resources. Published online, 8 Jul 2018.
Disability Exams Research & Forensic Psychology Competence
See Disability Exams Require Forensic Psychology Competence for an in-depth review of this important psychology licensing board statement.


---
Footnotes
1. Note that I often break up abstracts into paragraphs for ease of reading and bold some of the text for the same reason.
2. Although I am a psychologist, I am not a fan of APA Style. The citation format on this page are a slight modification of Chicago Manual of Style. I deviate from the style in how dates are written and how article titles are formatted. Instead of putting "titles" in quotes, I bold the title.
Regarding dates, I prefer the U.S. military's tradition of Date Month (3-letter abbrev.) Year, e.g.,  22 Feb 2019, because this method is least likely to cause confusion.
Plus, in almost all Latin-influenced European languages, the first three letters for the name of a month are the same. See the chart below for examples.


| Language | "February" |
| --- | --- |
| Latin | Februarius |
| Catalan | Febrer |
| Corsican | Febbraiu |
| Danish | februar |
| French | février |
| Frisian | febrewaris |
| Galician | Febreiro |
| German | Februar |
| Icelandic | Febrúar |
| Irish | Feabhra |
| Italian | febbraio |
| Norwegian | februar |
| Portuguese | fevereiro |
| Romanian | februarie |
| Spanish | febrero |
| Swedish | februari |
---
Google Sign-in icon
I value your feedback!
If you would like to comment, ask questions, or offer suggestions about this page, please feel free to do so. Of course, keep it clean and courteous.
You can leave an anonymous comment if you wish—just type a pseudonym in the "Name" field.
If you want to receive an email when someone replies to your comment, click the Google Sign-in icon on the lower right of the comment box to use Google Sign-in. (Your email remains private.)