VA Disability Fraud Cases
This page highlights VA disability fraud cases, particularly involving PTSD and other mental disorder claims.


---
Faked Psychological Trauma = $91,000
A northern Arkansas newspaper, The Daily Citizen, reported a prison sentence for a fraudulent PTSD disability claim (9 June 2023):
A North Little Rock man was sentenced to prison for submitting a falsified disability application to the Veteran's Administration and receiving more than $91,000 in disability payments.

Darold Maxfield Jr., 30, was sentenced to four months in federal prison Wednesday by U.S. District Judge Brian S. Miller.

In October 2018, Maxfield filed for disability benefits from the VA, alleging he sustained psychological trauma after he recovered the remains of a cadet who died while conducting a land navigation exercise at West Point Military Academy.

At the time, Maxfield was enrolled at the U.S. Military Academy Prep School. Maxfield's VA disability application was approved, and he began receiving $1,567 per month [tax free].
U.S. Military Academy Prep School
The U.S. Military Academy Prep School "prepares candidates selected by the United States Military Academy Admission's office for the academic, physical, and military challenges of the United States Military Academy at West Point. Selected students (Cadet Candidates) are high school graduates or enlisted personnel from the Active, Reserve or National Guard force."


---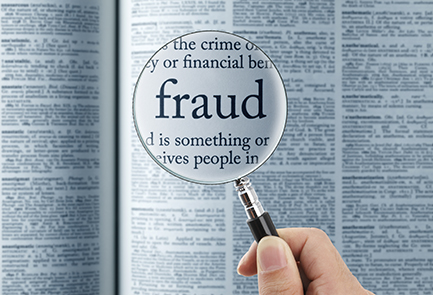 ---
Another Forged DD-214
VA disability fraud cases: William Joe Westfall served in the U.S. Navy for six years in the 1970s, receiving an honorable discharge in 1978. 
Thirty-two years later he decided he needed more cash. So he lied about his age, applied for Medicare and Social Security benefits, and started receiving monthly retirement checks and low-cost medical care. His deceit went undetected for 10 years, during which he received unmerited retirement payments from Social Security totaling $144,000. 
Westfall had a genuine DD-214 but he doctored it up (or forged a totally new, fake document—it is not clear) to show that he served in Vietnam (not true) as a Navy diver (not true) and suffered hearing loss and Agent Orange-related illness that were incurred during his military service (not true).
Despite all the falsehoods, VA awarded him service-connected disability benefits and free VA health care. In total, Westfall cheated the VA out of $331,402.
This VA disability fraud case highlights a fundamental flaw in the VA disability claim process: VA discourages its employees from questioning the veracity of a veteran's statements and documentation.
Of course, VA staff should not adopt a highly skeptical view of disability claims because the vast majority of veterans tell the truth.
At the same time, staff should routinely check the validity of veterans' statements and documentation. The Veterans Benefits Administration has established several policies and procedures along these lines, but those policies and procedures run up against an unwritten policy from upper management, namely if you question a veteran's truthfulness you are "anti-veteran", or in typical bureaucratic language, "you are not being Veteran-centric".
When I worked for VA, a Central Office executive told me and other C&P examiners to not report suspected fraud to the VA Office of Inspector General (VAOIG), despite a policy directing employees to do so. Instead, this official instructed us to report suspected fraud to the Veterans Benefits Administration where we all knew the report would very likely end up in the circular file (aka File 13). 
For more details on this VA disability fraud case, see the District of Alaska U.S. Attorney's press release, Anchorage Man Pleads Guilty to Fraud Charges (4 Apr 2022).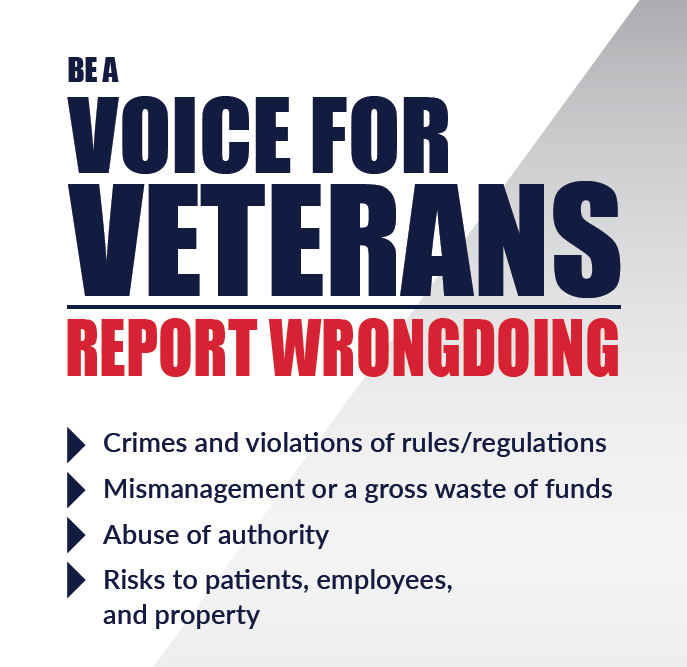 VA Office of Inspector General (VAOIG) → 1 (800) 488-8244
---
Navy Veteran Defrauds VA & SSA for Over $1 Million in Disability Benefits
According to the U.S. Attorney's Office, District of Maryland (11 Mar 2022), Angela Marie Farr, 36, submitted forged documents to the Veterans Benefits Administration and the Social Security Administration (SSA) falsely claiming that she, her husband, and her father were homebound and required full-time assistance. 
The total loss to the United States is over $1,000,000.

Federal agents with the VA Office of Inspector General (VA OIG) investigated this VA disability fraud case. The Social Security Administration - Office of Inspector General (SSA-OIG) investigated the Social Security fraud case and presented their evidence to the U.S. Attorney.
The U.S. Attorney's Office indicated that:
Farr served in the U.S. Navy from August 2, 2005 until April 19, 2007, when she was administratively discharged.

In 2009, Farr filed a claim for Disability Compensation stating that she suffered post-traumatic stress disorder (PTSD) after being sexually assaulted while on duty three years earlier.

At the same time, Farr also falsely claimed to VA that she was seriously injured in a traffic accident when she was struck by a drunk driver while driving on duty in 2006. Farr claimed that she suffered from chronic neck and back pain as a result of the accident.

In support of these claims, Farr filed an entirely fabricated medical record purportedly from the Navy consisting of over 70 pages of documents supposedly authored by criminal investigators, psychologists, and physical therapists.

Based on the injuries claimed and the forged supporting medical documentation, the VA rated Farr 70 percent disabled as of October 6, 2007.

---
Are You a Veteran with Law Enforcement Experience?
Your experience serving in our Armed Forces and in law enforcement uniquely prepares you for an important job: VA OIG Special Agent.
VA OIG Special Agents investigate a variety of crimes, including VA disability fraud cases. From the VA OIG website:
Why be a VA OIG Special Agent?

As a Special Agent with VA OIG, you perform challenging, varied, and rewarding work. The position affords opportunities to make a real difference in improving Veterans' lives by bringing criminals who prey on them, particular the most vulnerable Veterans, to justice.

The variety of VA's programs and operations, which include:

* paying monetary benefits,

* providing medical care directly to Veterans, and

* running large agency procurement, construction, and information technology activities,

exposes VA OIG Special Agents to a wider range of investigations than other OIGs and typical law enforcement agencies.

If you love conducting a vast array of criminal investigations, you will do so without distraction.

Federal salaries and benefits, especially special law enforcement pay and retirement, as well as initial and continual training, current equipment and technology, and the mission of taking care of the men and women who have taken care of America and its way of life provide a good living and high morale to VA OIG Special Agents. 

---

A career with the Office of Inspector General will provide you with:

* Responsible and meaningful work assignments, aligned with your career goals.

* A chance to have a real impact in the delivery of services to veterans.

* Opportunities for professional growth in a work environment that provides interaction with a wide range of other professionals from the public and private sectors.

* On-the-job and formal training to assist you in developing your knowledge, skills and abilities to meet the challenges you will face.

* Career advancement opportunities and monetary recognition of your valuable contributions to the organization.

* A good starting salary with regular increases and a great benefits program.

* Interesting travel assignments and the opportunity to live in any one of a number of our nation's finest cities.


---
On 

Reddit, 

Vet Asks How to Report VA Disability Fraud Cases—Fellow Vets Lambast Him for Suggesting Such Heresy
---
God forbid a veteran should express concern about VA disability fraud cases.
When a vet did just that on Reddit, the vitriol heaped upon him was so caustic, he decided to delete his question.
But the responses (comments) remain at Can I report disability fraud? in the r/veterans subreddit.
Many of the responses were along the lines of these gems:
"Get a life and worry about yourself."


"Jesus Christ Karen."


"You're aware of our National snitching policy? Mind ya business."


---
Mistaken Beliefs
It also quickly became apparent reading this Reddit thread that many veterans—and the public in general—do not understand the lax nature of VA's disability claim process, which makes VA disability fraud much easier than you probably think, especially for post-traumatic stress disorder (PTSD) and other mental disorders.
Here are some of the misconceptions:
"He'll get caught & karma will catch up to him."


"It is very hard to fake a disability and get compensation for it."


"They do checks for malingering at the C&P exams, etc."

I tried to correct some of the misconceptions. I copied what I wrote on Reddit - below the "False Negative & False Positive Decisions" chart.


---
False Negative & False Positive Decisions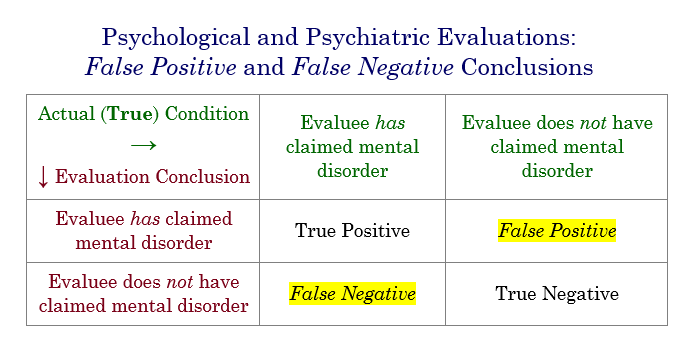 Copied below is Dr. Worthen's response on Reddit, in which he tries to dispel some common myths about the Department of Veterans Affairs (VA) compensation and pension examinations (C&P exams) process.
From my perspective as a civilian psychologist who worked for VA conducting C&P exams, and having read every research article related to VA disability for PTSD and other mental disorders, I conclude that there are a significant number of errors on both sides of the coin.
In more formal language, there seem to be high rates of false negative decisions (veteran has a service-related mental disorder but VA does not award service-connected disability benefits) and false positive decisions (veteran does not have a mental disorder, or if he/she/they does, it is not related to his/her/their military service, but VA nonetheless awards service-connected disability compensation).
We do not have precise numbers, e.g., percentage of false negative and false positive claim decisions, because the VA does not conduct program evaluation studies or scientific research on the topic.
The reaction the OP received here is common on the internet. One notable exception is a news and discussion site run by and for combat veterans, ValorGuardians.com, where I seriously doubt the OP would have been criticized for his question.
The OP has a point about significantly exaggerated or fraudulent disability claims.
You can read about some of the worst of the bunch by perusing the OIG Monthly Highlights. (OIG = VA Office of Inspector General).
Most of the info is about other crimes, but there are usually one or two VA disability fraud cases, like this one from the October 2020 issue:
Veteran Pleads Guilty in Connection with Compensation Benefits Fraud Scheme - A veteran pleaded guilty in the Southern District of Florida to theft of government funds.

A VA OIG investigation revealed that the defendant lied about his military service history, to include submitting a fraudulent record that listed the receipt of a Combat Infantryman Badge and a combat deployment to Panama, when he actually had no active duty periods other than for training.

The fraudulent record enabled the defendant to receive VA compensation and healthcare benefits. The loss to VA is $318,423.


Here are some articles about the false positive side of the coin. (Please remember that I believe false negative claim decisions are also a big problem.)


---
LTC Daniel M. Gade (USA, Ret.)
Gade, Daniel M. "A Better Way to Help Veterans." National Affairs (Summer 2013).

Gade, Daniel. "Why the VA Is Buried in Disability Claims." Wall Street Journal (23 Jun 2013).


---
LT Ken Harbaugh (USN, Ret.)
Harbaugh, Ken. "The risk of over-thanking our veterans." New York Times (1 Jun 2015).

QUOTES from article: "... while most vets who receive disability checks deserve them, one of the worst kept secrets among those seeking a disability rating is that the system can be beaten."
"Claim the right combination of symptoms, whether you are suffering or not, and there is a decent chance you can get a monthly disability check, tax free, for the rest of your life. There are even blogs out there to walk you through the process of claiming an injury that cannot be disproved."

---
Chris Hernandez (U.S. Army Veteran)
Hernandez - PTSD: Fakers and frauds and WTAF?
A downside to ignoring VA disability fraud cases:
Hernandez, Chris. "PTSD: Fakers and frauds and WTAF?" Breach. Bang. Clear. (10 Feb 2014).

QUOTE from article: "As with any form of welfare, people are going to jump on it if it's easy money.
If we make it so simple to get diagnosed as "disabled" by PTSD, we shouldn't be surprised that so many people get diagnosed.
PTSD is a defined disorder with specific criteria, but its symptoms are self-reported. If a veteran says he's having nightmares and anxiety attacks, who's going to challenge him?
And our society seems to be eager to paint us all as damaged and suffering for our service."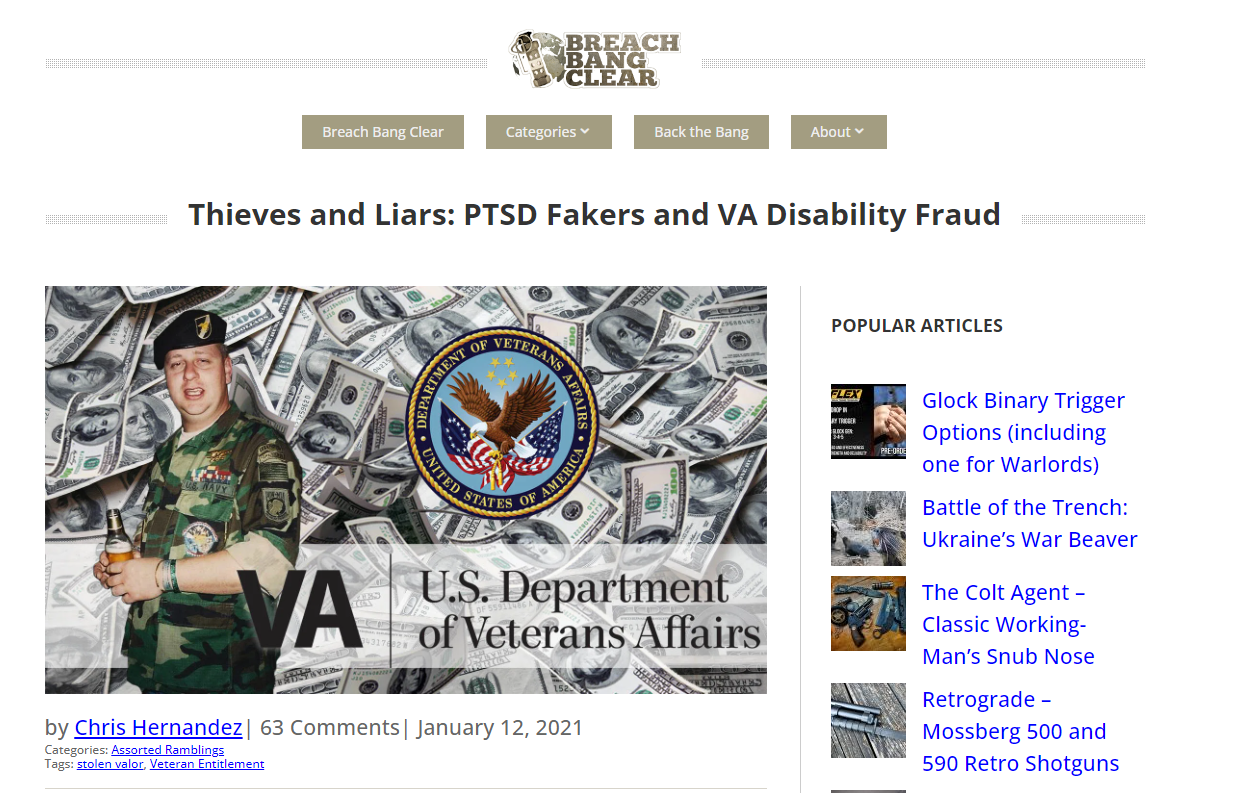 Hernandez - PTSD, reading comprehension and the great American love of victimhood
This is a great article that highlights the prevalence of excusing VA disability fraud cases.
Hernandez, Chris. "PTSD, reading comprehension and the great American love of victimhood." Breach. Bang. Clear. (26 Feb 2014).
QUOTES from article: "Not surprisingly, my essay PTSD: Fakers and frauds and WTAF? generated hundreds of comments from angry, supportive, incredulous, or head-nodding-in-agreement readers.
I got quite a few personal insults, from a variety of readers. I was called mentally ill, narcissistic, stupid, arrogant, and was even compared to Piers Morgan.
One person hopes I have a stroke so I can't write anymore. Several accused me of secretly having PTSD. One man furiously ranted about the harm I'm causing veterans, said it's a good thing I left group therapy (which I was never in) before I 'instigated someone to commit suicide'. He then told me to blow my brains out. I got a good laugh out of that one.
The many negative comments suggested, to me, that some veterans are fully invested in The Great American Love of Victimhood.
I bet those veterans would have embraced me had I written an essay titled, 'I got PTSD from getting scared when a rocket landed five miles away in Afghanistan and don't you dare judge me for it'."


---
Hernandez - Thieves and Liars: PTSD Fakers and the VA
Actions have consequences. Excusing or minimizing VA disability fraud cases harms veterans.
Hernandez, Chris. "Thieves and Liars: PTSD Fakers and the VA." Breach. Bang. Clear. (21 Feb 2016).
QUOTE from article: "If for some reason you're under the mistaken impression that faking PTSD is a victimless crime, let us give you a strong correction: Not only does it display a complete lack of honor and integrity, it also hurts a ton of people–none more so than the legitimate sufferers of PTSD.
Read on to find out exactly how out of hand the fakery has gotten, and what we propose should be done about it."


---
Wall Street Journal
Giving advice on filing disability claims is one thing. Encouraging lying and exaggeration is another. This is another reason VA disability fraud cases continue to occur.
Huang, Daniel. "Trying to serve more veterans faster, VA opens door to disability fraud." Wall Street Journal (15 Jul 2016).

QUOTE from article: "Veterans say methods to boost compensation are common topics of conversation.
Jack Murphy said soon after he returned from Iraq in 2009, a fellow veteran at a Dobbs Ferry, N.Y., meeting advised him to tell the VA he had 'horrible nightmares, that you're too shell-shocked to do anything. Tell them your penis doesn't work.'
'They just sat there and compared notes on how to pull better scams—talking shop about benefits like other people talk about baseball,' said Mr. Murphy."


---
Los Angeles Times
A veteran LA Times reporter examines VA disability fraud cases specific to PTSD.
Zarembo, Alan. "As disability awards grow, so do concerns with veracity of PTSD claims." Los Angeles Times (3 Aug 2014).

QUOTE from article: "'It's an open secret that a large chunk of patients are flat-out malingering,' said Christopher Frueh, a University of Hawaii psychologist who spent 15 years treating PTSD in the VA system."


---
New York Times
Phillips, Dave. "Iraq Veteran, Now a West Point Professor, Seeks to Rein In Disability Pay." New York Times (7 Jan 2015).


---
---
Veteran Bragged about his Silver Star & Purple Heart, Claimed PTSD—All LIES
Here's another enraging, sad tale in the annals of VA disability fraud cases.
Greg Ramsdell did serve in the U.S. Army, but he decided he needed some cash and a prestigious civilian job with the Department of Defense, so he fabricated a story about atrocities he witnessed in Afghanistan, the valorous awards he (allegedly) received as an Army Ranger, and the PTSD that plagued his soul.
None of it was true. 
Despite his prevarication, the VA awarded Ramsdell service-connected disability benefits for his (fake) PTSD, which swelled his bank account to the tune of $76,000. 


Proving yet again that most criminals lack common sense, Ramsdell landed a job at Fort Benning (Georgia), home of the 75th Ranger Regiment.
It didn't take long for a real Ranger to question Ramsdell's (fake) awards and insignia.
The VA Office of Inspector General, Office of Investigations launched an inquiry in cooperation with the Federal Bureau of Investigation (FBI) to reveal this VA disability fraud case.


Stolen Valor
WBAL in Columbus, Georgia reported in August 2019:
"Ramsdell claimed in June 2017 he had been awarded the Silver Star and Purple Heart to obtain civilian employment at Fort Benning. He knew that was false."i
The wonderful, "no bullshit" military & veterans blog, This Ain't Hell, noted:
[Ramsdell was] indicted for fraudulently claiming valor awards in order to improve his chances at gaining employment at Ft. Benning. Court documents state that Ramsdell claimed he had been awarded the Silver Star for valor, and a Purple Heart for wounds sustained in combat with the enemy. Neither of these claims were true.

These claims are in violation of Stolen Valor laws that make it a crime to fraudulently claim to be an awardee of certain military decorations or medals in order to obtain money, property, or other tangible benefits.ii
The U.S. Attorney's Office, Middle District of Georgia issued a press release in December 2019 noting:
As a result of Defendant Ramsdell's false claims, the VA gave him added PTSD benefits retroactive to his military discharge date of June 1, 2014 totaling $76,000. In truth, Defendant Ramsdell was not in Afghanistan during that period of time that he claimed to witness the atrocities that supported his false PTSD claim, and he admitted to investigators that he lied about having PTSD.iii 

This Ain't Hell posted Ramsdell's active duty deployments obtained from the Department of Defense Manpower Data Center, none of which indicated a deployment to Afghanistan.iv
If a VA employee had cross-checked the veteran's claims, it could have prevented this VA disability fraud case.
---
Stolen Valor Act (2013)
---
VA Refuses to Properly Educate and Train C&P Examiners
Ramsdell's crime, like many VA disability fraud cases, could have been detected early on if VA staff received proper training, support, and resources—especially time—to carefully review military personnel records.
For example, VA should require all VHA-employed and VBA-contracted psychologist and psychiatrist examiners to read this article, written by an experienced C&P psychologist who is a combat veteran:
Unfortunately, VA does not even tell its examiners about this article or other crucial scientific and legal publications relevant to psychological C&P exams.


---
Guilty as Charged
Ramsdell pleaded guilty on 6 Dec 2019 to one count of false statements and one count of violation of the Stolen Valor Act. 
On 18 Aug 2020, U.S. District Judge Clay Land sentenced Ramsdell to maximum allowable—12 months in prison, three years supervised release, and was ordered to pay $76,000 in restitution to the U.S. Department of Veterans Affairs (VA).vi 


---
Army Times
Army Times also covers VA disability fraud cases, including the Ramsdell case. Army Times reported: 

Ramsdell did serve in various Army components, including the National Guard and the Reserve, beginning in 1981. He was honorably discharged in 2014.

The VA gave Ramsdell PTSD benefits retroactive to his 2014 discharge date totaling $76,000. He also received a civilian job at Fort Benning, Georgia, in 2017.

Ramsdell received the Fort Benning job offer in part because his resume listed that he was both a Silver Star and Purple Heart with oak leaf cluster recipient, the court records stated. But he never received those awards, the documents added.

The Silver Star medal is the third-highest military award for valor in combat. And the Purple Heart medal is awarded to service members who are wounded or killed in battle.

"The sentence imposed on Ramsdell sends a clear message that anyone who falsely claims to have received our nation's most valorous medals earned through combat and service will be held accountable," said David Spilker, special agent in charge at the VA Office of Inspector General, in a prepared statement.
Ledger-Enquirer
In a pithy, punching article in the Ledger-Enquirer (Columbus, Georgia and eastern Alabama), journalist Tim Chitwood tells it like it is: 
Gregg Ramsdell had a Silver Star for which he fought no battle and a Purple Heart for which he shed no blood.

For years the retired Army master sergeant also adorned his dress uniforms with a Ranger and a Special Forces tab, though he was neither a Ranger nor a Special Forces "Green Beret," as he claimed.

... Under sentencing guidelines, [Ramsdell] faced up to a year in federal prison, which his attorney, Zach Alsobrook of Opelika, hoped [Judge] Land might let Ramsdell serve on probation, telling the judge Ramsdell's wife has lupus and needs care, and Ramsdell's own age and health put him at risk of catching COVID-19 in prison.

Land would not allow that. Noting Ramsdell took money from the taxpayers by claiming stress from combat in which he was never involved, Land sentenced him to a year in federal prison and ordered him to pay $76,000 in restitution.vii
---
Footnotes
i. Williams, Chuck. "Indictment: Former soldier faces federal charges for lying about medals and atrocities." WRBL.com (20 Aug 2019). 
ii. AW1Ed. "Former Soldier Accused of Stolen Valor." This Ain't Hell, But you can see it from here (20 Aug 2019).
iii. Department of Justice, U.S. Attorney's Office, Middle District of Georgia. Georgia Man Masking as Purple Heart, Silver Star Recipient Pleads Guilty to Stolen Valor: Discharged Army Vet Claimed PTSD Benefits from Fake Tour in Afghanistan. Offices of the United States Attorneys, U.S. Department of Justice (6 Dec 2019).
iv. Balm, Steve. Gregg Ramsdell Pleads Guilty to Stolen Valor. This Ain't Hell, But you can see it from here (7 Dec 2019).
v. Rempfer, Kyle. "Army veteran gets 12 months prison time for stolen valor." Army Times (19 Aug 2020).
vi. U.S. Attorney's Office, Middle District of Georgia. "Max Prison Sentence + Restitution For Discharged Veteran Who Faked Military Honors And Combat-Related Mental Health Illness To Claim VA Benefits." Offices of the United States Attorneys, U.S. Department of Justice.
vii. Chitwood, Tim. "'Shameful'. Retired Columbus soldier sentenced for using fake PTSD claims to get disability." Ledger-Enquirer (19 Aug 2020).
---
I'm a Navy SEAL - Give Me Money
A galling example of VA disability fraud cases.
Richard Meleski told the Veterans Health Administration (VHA), Veterans Benefits Administration (VBA), and Social Security Administration (SSA) that he was a decorated Navy SEAL who had rescued marines in Beirut, Lebanon—for which he received a Silver Star—and, not only that, but by golly he had been a prisoner of war (POW) too!1 
VHA gave Meleski high priority healthcare access and lots of free healthcare; VBA granted him disability compensation for post-traumatic stress disorder (PTSD); and SSA awarded him disability benefits too.
Hundreds of thousands of dollars worth of healthcare services and disability benefits to a guy who had never served in the U.S. military.


---
No Bail for Vile Felon
From the military blog, This Ain't Hell, But you can see it from here:2
A federal magistrate judge on Tuesday ruled that Richard Meleski, of Chalfont, would remain behind bars until his health-care fraud and stolen-valor case goes to trial or is otherwise resolved.

"Society is entitled to be protected from his criminal propensities, whether they incline him to burn things down or steal from veterans, their widows, and their orphans," wrote Magistrate Judge Richard A. Lloret in a six-page order.

Special Assistant U.S. Attorney Megan Curran wrote in the pretrial motion that Meleski over the years "was required to complete anger management, mental health counseling and psychiatric counseling, yet the defendant continued to commit violent felonies."

Judge Lloret wrote that the "depth and nature of the defendant's criminality is revealed by his current crime."

Lloret wrote, "The VA was established, in President Lincoln's words, 'to care for him who shall have borne the battle and for his widow and his orphan,' not as a piggy-bank for Mr. Meleski."


This Ain't Hell, but you can see it from here - military blog (valorguardians.com/blog)
Note: This Ain't Hell is very MAGA, but I appreciate their efforts to expose fraud and abuse, and I like to keep an open mind and read sources that have a different perspective. We have to at least try to understand differing perspectives or we'll tear ourselves apart as a country.


---
Loathsome Liar Pleads Guilty
This VA disability fraud case highlights the threat non-veterans pose. 
On 22 July 2020 Meleski pled guilty to several crimes including healthcare fraud, mail fraud, Stolen Valor, creating fraudulent military discharge papers, and making false statements.3
He had also stolen dozens of guns and sold them on the street ("aiding and abetting straw purchases of firearms").
Meleski was a convicted felon who served time in prison before the present crimes. He was convicted of arson four times, including setting fire to a Roman Catholic hermitage for nuns.
According to the Philadelphia Inquirer, the hermitage was the home of a priest and several nuns who "live in individual cottages, almost always eat alone and devote their lives to solitary prayers and chores, and silence."4
From the same Inquirer article:
Meleski also was convicted in an earlier [arson] case for setting a school on fire in Middlesex County.

Meleski was convicted of forgery in 1980 and stealing a gun in 1992. In the latter case, he was convicted of injuring two police officers during an arrest and threatening to kill them. He was sentenced to four years in prison for that case.
Meleski faces a maximum possible sentence of 68 years imprisonment and restitution of $302,121 for the va disability fraud cases.
The case was investigated by the VA and SSA Offices of Inspector General.


---
Footnotes
1. U.S. Attorney's Office, Eastern District of Pennsylvania. "Montgomery County Man Indicted for Faking a Military Career and Stealing from the Government" (press release). U.S. Department of Justice (25 Nov 2019).
2. AW1Ed. "Fake SEAL Charged with Defrauding VA Update." This Ain't Hell, But you can see it from here (4 Dec 2019).
3. Ziezulewicz, Geoff. "Man pleads guilty to faking SEAL service, POW status and PTSD for $300,000 in VA benefits." NavyTimes (23 Jul 2020).

4. Moran, Robert. "Bucks County man accused of posing as Navy SEAL and POW to steal veterans benefits was convicted of arson 4 times in N.J." Philadelphia Inquirer (27 Nov 2019).


---
---
VA Disability Fraud Cases
---

Google Sign-in icon
I value your feedback!
If you would like to comment, ask questions, or offer suggestions about this page, please feel free to do so. Of course, keep it clean and courteous.
You can leave an anonymous comment if you wish—just type a pseudonym in the "Name" field.
If you want to receive an email when someone replies to your comment, click the Google Sign-in icon on the lower right of the comment box to use Google Sign-in. (Your email remains private.)
↓ Please comment below! ↓