Traditional Masculinity, PTSD Symptom Severity, and Treatment
The article cited below discusses traditional masculinity characteristics, such as stoicism,α and how strong adherence to these traits affects PTSD symptom severity and how clinicians might best help veterans in such situations. 
Jump to: Citation | Abstract | Definitions | Commentary | Don't Talk About Masculinity Like This | Masculinity Is Not "Bad" | Footnotes
---
Citation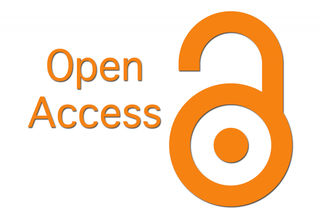 Neilson,Elizabeth C., R. Sonia Singh, Kelly L. Harper, and Ellen J. Teng. "Traditional Masculinity Ideology, Posttraumatic Stress Disorder (PTSD) Symptom Severity, and Treatment in Service Members and Veterans: A Systematic Review." Psychology of Men & Masculinities, epub ahead of print (27 Jan 2020). doi:10.1037/men0000257


---
Abstract
Veterans receive messages to conform to aspects of traditional masculinity through both the broader culture and military culture.
Theoretical and empirical evidence suggest that adherence to traditional masculinity negatively impacts veterans' PTSD severity and treatment engagement.
The present article reviews the literature and synthesizes research findings utilizing both qualitative and quantitative methods.
This review focuses on the associations between traditional masculinity and PTSD severity and treatment engagement.
Findings suggest that endorsement of a traditional masculinity ideology creates a culture in which experiencing a traumatic event is emasculating.
Overall, endorsing beliefs and behaviors that conform to traditional masculinity ideology and experiencing gender role strain are associated with posttraumatic stress disorder (PTSD) severity and PTSD-related constructs.
In particular, emotional stoicism and stigmatizing one's emotions are associated with greater PTSD severity and difficulties with functioning.
This review also provides recommendations for future research directions and clinical interventions. (paragraph breaks & bold text added to enhance online reading)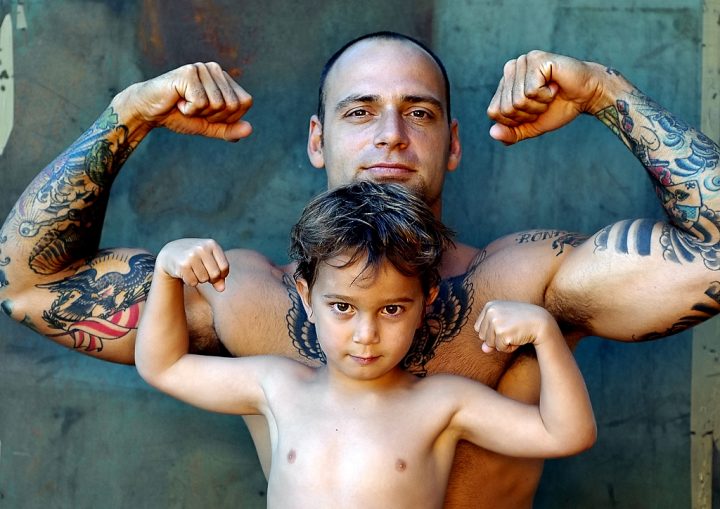 Image by Jason Regan • License: CC BY 2.0
This article provides an academically rigorous, thorough review of both quantitative and qualitative research. 
The article's promise (in the Abstract) to provide recommendations for clinical interventions is incomplete, although much of the incompleteness is not their fault.
Part of the problem is the wooden language common to articles in clinical psychology and many other disciplines.
I can't fault the authors for having to adhere to this pretentious custom since most publishers insist on a dull writing style because it allegedly imparts a sense of objectivity.
At the same time, authors can still express important points clearly and directly. For example, the authors state near the end of the article:
...clinicians working with veterans who rigidly conform to traditional masculinity may consider providing psychoeducation and reinforce adaptive and flexible displays of masculinity. This may include helping veterans challenge their beliefs about masculinity and discussing different expressions of masculinity that may still be connected to veterans' values and self-concepts as men. 

That sounds good, but how would a psychologist best "provide psychoeducation" or "challenge beliefs about masculinity".
I understand that the authors wrote a systematic review, not a psychotherapy guide.
So here are some thoughts about how not to implement those suggestions, and some related points.


---
Don't Talk About Traditional Masculinity Like This
Many experienced mental health clinicians would not make the following mistakes, at least in not such a blatant manner, but not everyone is an experienced clinician yet.

Plus, if we are not careful our attitudes and beliefs can seep into our communications with patients.
Here are some remarks a less-than-empathic psychotherapist might make to a veteran, based on the article's recommendations.
These hypothetical remarks might be a bit exaggerated, but the gist is not.
(a) "Ah, I see that you rigidly conform to traditional concepts of masculinity. Let me educate you."
(b) "Let's talk about different ways you can be masculine—you know, still be a man but not be so rigid about it."
(c) "Hey, being stoic is all well and good. I've got a book of Marcus Aurelius quotes by my bed! But when it comes to treatment of PTSD you've got to stop being such a tough guy."
I'm not a veteran but I am a man. Here's what went through my mind when I thought about a therapist saying these things to me:
(a) Fuck you.
(b) What's wrong with being rigid? Haha. But really, what the fuck are you going on about?
(c) I think I'm going to throw up.
I would (as you can tell) feel angry if a therapist said something like that to me, and like I said, I did not serve in our armed forces. I imagine many combat veterans would have even stronger reactions.
So how should a psychotherapist help a veteran who seems stuck between traditional beliefs about how a man treats painful emotions and debilitating PTSD symptoms?
Obviously, that's a big topic. But here are a few essentials.


---
Traditional Masculinity Is Not "Bad"
1. Traditional masculinity is not "bad". Yes, relying on traditional masculine characteristics such as stoicismα can cause difficulties for veterans who have endured horrific trauma during their military service.
But stoicism or being "tough" is not bad in and of itself.
In fact, these attributes help fighting men function efficiently and effectively. They help kill the enemy, protect brothers-in-arms, and achieve the mission.
Clinicians should therefore acknowledge this frustrating paradox. For example:
"It sucks that one of your greatest strengths—how fierce and mentally tough you are—might trip you up when it comes to getting rid of PTSD problems."


2. We (men) learn "how to be a boy" and "how to be a man" starting before we can even talk. And the messages keep on coming from toddlerhood to preschool, through elementary school, tumbling through adolescence, and forging ahead into young manhood.
Men learn how to be men from such an early age, and those beliefs are so effectively reinforced at every age and stage, that traditional masculine traits seem innate. 
It's therefore important to recognize that this process of helping veterans to allow themselves to be vulnerable—at the right time and place—is not a "one and done" psychoeducational intervention. It takes time, patience, grace, and humility on the part of the psychotherapist.


3. Some men with traditional masculine beliefs overcome PTSD (or at least lessen PTSD severity and functional impairment) without completing a course of psychotherapy that requires emotional vulnerability.
No, that's not an "empirically supported" statement. But do we have scientific evidence that men with strong traditional masculine beliefs never or rarely overcome PTSD without completing a course of psychotherapy that requires emotional vulnerability?
Although I suspect that cultivating at least some emotional vulnerability probably helps most men suffering from PTSD, that's still a hypothesis at this point.
I am advocating humilityß here: Keep open the possibility that your traditionally masculine veteran might benefit from your help without having to embrace emotional vulnerability.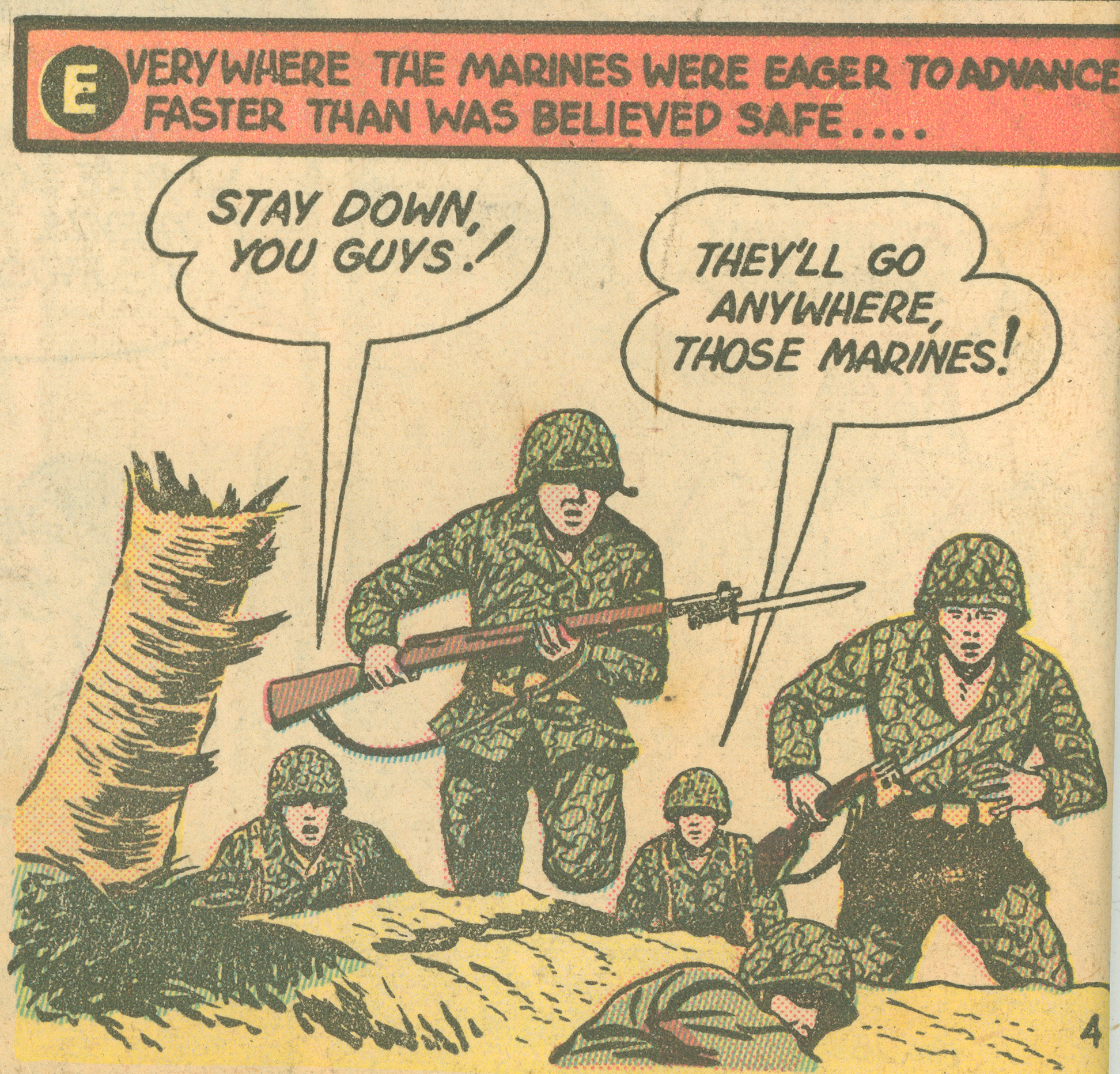 Mart Bailey (artist), "Tarawa", ed. Vin Sullivan, The United States Marines, no. 3 (1943): 6.
Definitions
The authors of this article provide the following definitions.
Gender role discrepancy strain - psychological distress when failing to meet male role expectations.
Gender role dysfunction strain - psychological distress or negative consequences as a result of fulfilling masculine role expectations.
Gender role trauma strain - distress during the masculine socialization process, such as being told to "man up" when experiencing sadness.
Traditional masculinity - "Although there is no singular traditional masculinity ideology, traditional masculinity ideology within many Western cultures emphasizes achievement, toughness and emotional control, and antifemininity, while prohibiting appearances of weakness including expression of vulnerable emotions and seeking help." (p. 2)


---
α. "stoicism, noun ...  2 :  the principle or practice of showing indifference to pleasure or pain :  repression of feeling :  impassiveness." Webster's Third New International Dictionary, edited by Philip B. Gove, Springfield, MA: G. & C. Merriam, 1961, rev. 2016 (Merriam-Webster, Inc.), https://unabridged.merriam-webster.com/unabridged/stoicism 
ß. "humility, noun  1  :  the quality or state of being humble in spirit :  freedom from pride or arrogance." Webster's Third New International Dictionary, edited by Philip B. Gove, Springfield, MA: G. & C. Merriam, 1961, rev. 2016 (Merriam-Webster, Inc.), https://unabridged.merriam-webster.com/unabridged/humility
---

Google Sign-in icon
I value your feedback!
If you would like to comment, ask questions, or offer suggestions about this page, please feel free to do so. Of course, keep it clean and courteous.
You can leave an anonymous comment if you wish—just type a pseudonym in the "Name" field.
If you want to receive an email when someone replies to your comment, click the Google Sign-in icon on the lower right of the comment box to use Google Sign-in. (Your email remains private.)
↓ Please comment below! ↓