Federal Policies for Veterans
Federal Policies for Veterans
This section concerns federal policies for veterans, particularly those related to compensation and pension examinations (C&P exams) for post-traumatic stress disorder (PTSD) and other mental disorders. 
---
Federal Policies for Veterans: 6 Exams Per Day?
Can a VA psychologist or psychiatrist produce reliable and valid results when conducting six C&P exams per day? This article addresses that question:
---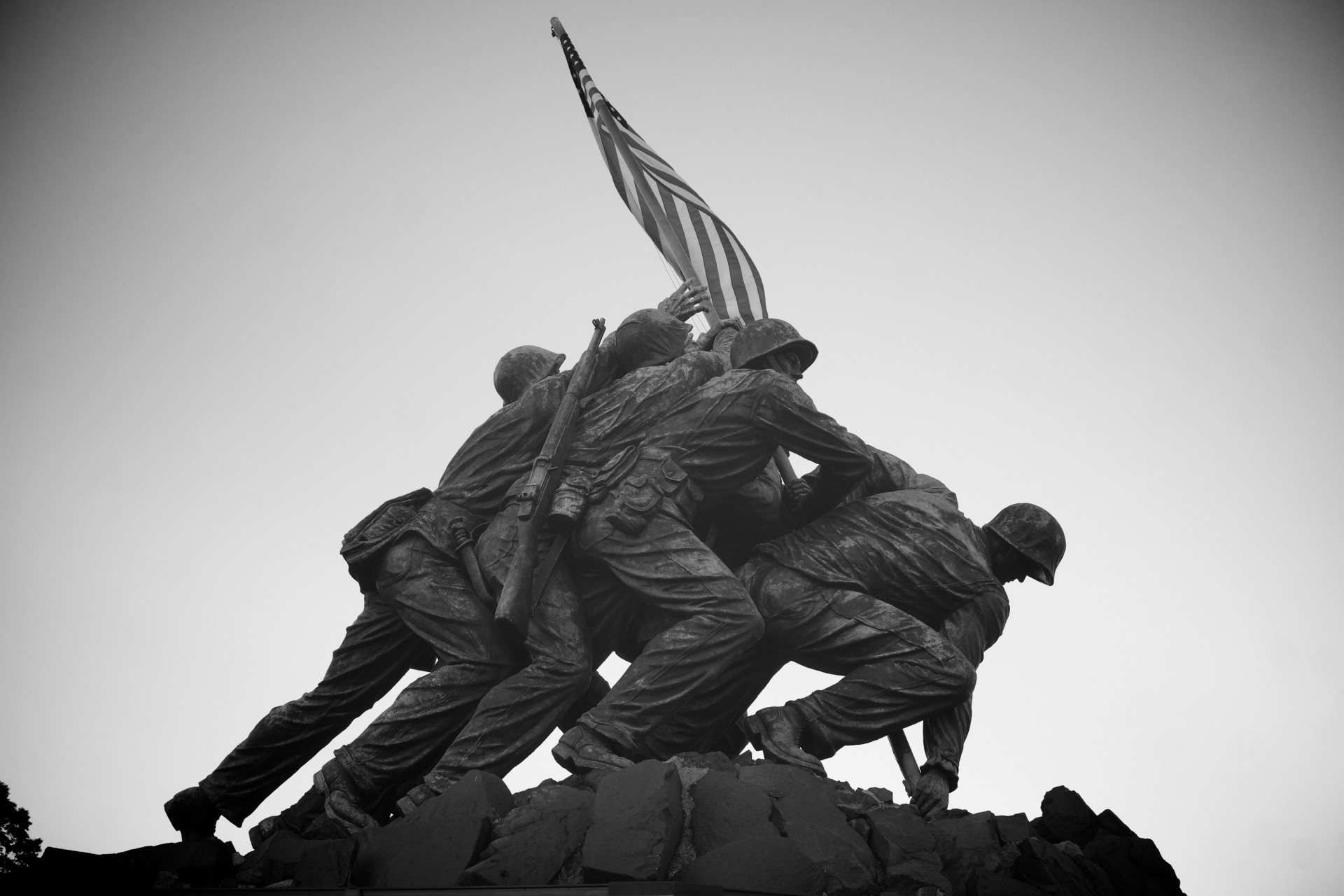 United States Marine Corps War Memorial in Arlington, Virginia
---
Federal Advisory Committee
The Advisory Committee on Disability Compensation is a "statutory" federal advisory committee, which means it is specifically authorized by a United States statute.
The Committee's purpose, defined in the statute, is to advise the Secretary of Veterans Affairs regarding the maintenance and periodic readjustment of the schedule for rating disabilities [VASRD]. 
The Committee also advises the Secretary—and issues a biannual report to Congress—regarding other federal policies for veterans.
Continue to the article: 
Advisory Committee on Disability Compensation


---
How Much Time to Allocate for C&P Exams
One of the more important federal policies for veterans concerns the quality of compensation and pension examinations (C&P exams). 
VA administrators must make difficult decisions regarding resource allocation. They must balance a need for high quality services with demands for productivity and timeliness.
I encourage VA managers who must make this time allocation decision to ask yourself the following questions to help inform your decision-making process.
The goal is to strike an appropriate balance between productivity and quality.  
The following article lists a series of important questions for VA managers to ask themselves regarding C&P time allocation:
How Much Time to Allocate for C&P Exams: Questions for Administrators


---
Disability Fraud Cases
Federal policies for veterans tend to overlook potential exaggeration or feigning of mental disorder symptoms and functional impairment.
Therefore, when the government investigates and charges a veteran with fraud, those cases tend to be the most egregious.
The following article highlights VA disability fraud cases, particularly involving PTSD and other mental disorder claims:
---
Legislative Priorities
Some federal policies for veterans have not yet been established.
The following article lists legislative priorities will strengthen our nation's commitment to care for veterans by providing a supportive and equitable disability benefits program.
Legislative Priorities to Improve the VA Disability Program


---
PTSD Exam Quality: VA Responds with Obscurantism to a U.S. Senator's Question
In a U.S. Senate Committee on Veterans Affairs hearing, Senator Roger F. Wicker (R – Mississippi) asked the VA to "describe how the VA conducts quality control of PTSD C&P Exam results, and C&P examiner performances."
C&P exam quality is a crucial topic for federal policies for veterans, since poor exam quality leads to unjust disability compensation decisions.
VA provided an eloquent response to Senator Wicker that slides across the page so gracefully, you almost want to believe everything it claims, even if you know better.
Since you do know better, and since no one wants to let someone's silver-tongued prose cast a spell over them, you can decide for yourself if VA responded completely and honestly to Senator Wicker's astute query.
My conclusion: VA's response to Senator Wicker epitomizes well-crafted obscurantism.
Read the following article for a detailed explanation, including the definition of obscurantism:
PTSD Exam Quality: Senator Wicker Asks an Important Question


---
VA Tele-C&P Exam Policy: Still Not Clear
Does VA accept Tele-C&P exams (telemental health exams) conducted by private (non-VA) psychologists and psychiatrists?
Although the Veterans Benefits Administration recently revised and improved the language in their M21-1 Adjudication Procedures Manual, ambiguity remains. 
I argue that non-VA psychologists and psychiatrists should be able to conduct Tele-C&P exams using videoconferencing technology, provide they comply with relevant state licensing laws. 
However, the VA Office of Inspector General determined that private (non-VA) clinicians are prohibited from conducting Tele-C&P exams, and conclusion VBA since adopted. 
Read this article for my argument and related information on one of the more important federal policies for veterans:
VBA Updates Telemental Exam Section of M21-1 Manual

---
You are here:
VA Policy
---

Google Sign-in icon
I value your feedback!
If you would like to comment, ask questions, or offer suggestions about this page, please feel free to do so. Of course, keep it clean and courteous.
You can leave an anonymous comment if you wish—just type a pseudonym in the "Name" field.
If you want to receive an email when someone replies to your comment, click the Google Sign-in icon on the lower right of the comment box to use Google Sign-in. (Your email remains private.)
↓ Please comment below! ↓