Glossary
This is a glossary of terms related to Department of Veterans Affairs (VA) compensation and pension examinations (C&P exams) for posttraumatic stress disorder (PTSD) and other mental disorders. (This is a work-in-progress. Please post a comment below if you would like me to define a term for this Glossary.)


---
Table of Contents
---
---
Some of these terms are unfamiliar and therefore difficult to understand at first. But at least they're not has hard as reading something written in Anglo-Saxon runes. ;^)

---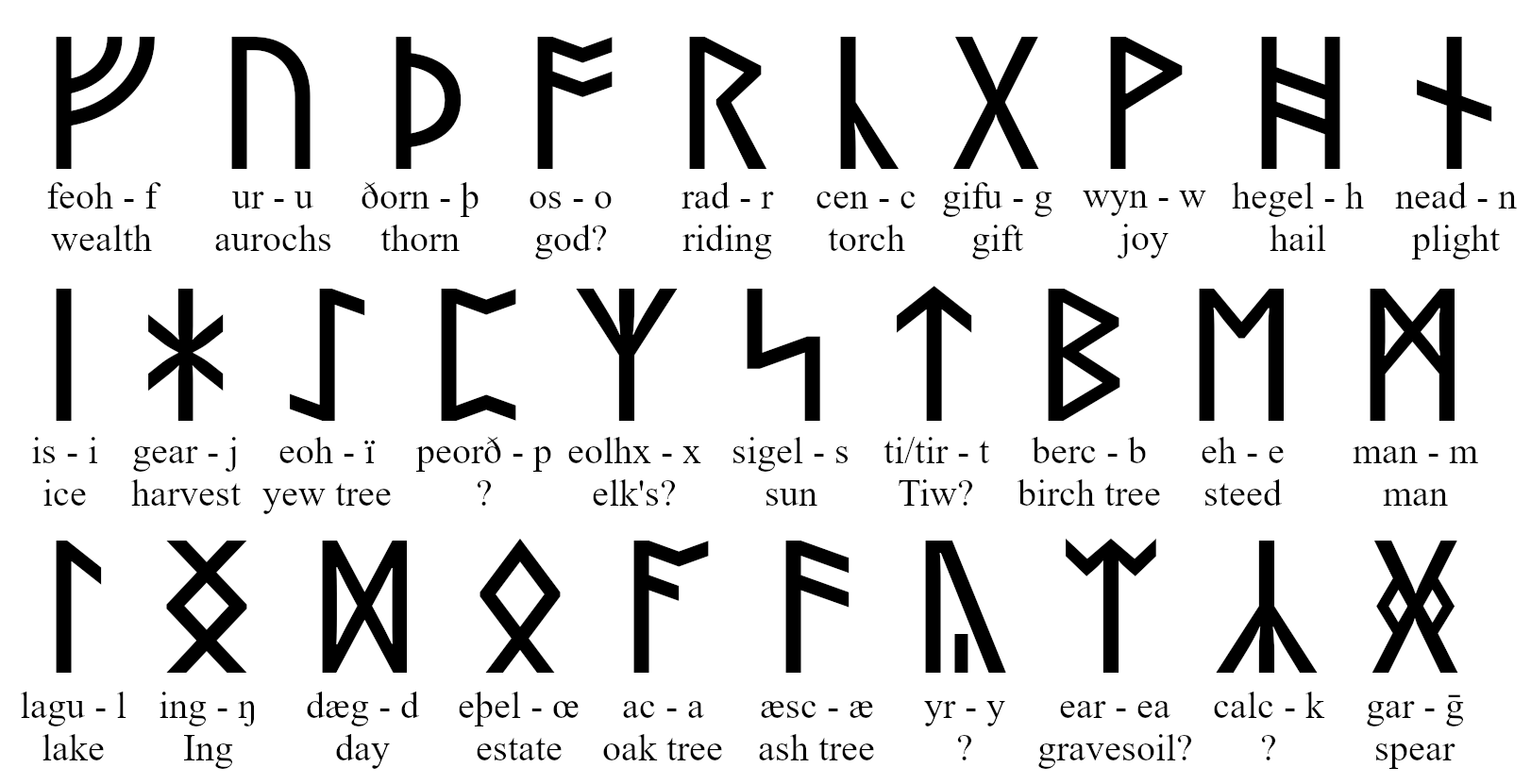 Anglo-Saxon "futhorc" runes. License: CC BY-SA 4.0
---
N
Negative reinforcement - From learning theory, in particular operant conditioning theory, "reinforcement" is an event that occurs shortly after a behavior and which increases the frequency of that behavior.
Most people are familiar with positive reinforcement, such as a teacher rewarding good behavior by placing a gold star next to a student's name. The gold star, which represents approval and positive attention, reinforces the student's good behavior thereby increasing the probability that the student will either continue to exhibit good conduct or improve even more. 
Negative reinforcement is a bit harder to understand, mainly due to the way we process (interpret) the word "negative". The best way to remember what negative reinforcement means is to recall that reinforcement increases the frequency of a behavior.
Both positive and negative reinforcement increase the frequency of a behavior.
When a behavior is followed by the removal of an unpleasant experience, that behavior is likely to increase in frequency. This effect is negative reinforcement. 
For example, posttraumatic stress disorder (PTSD) causes many patients to experience chronic tension and dysphoric mood. If a person suffering PTSD-induced chronic apprehension and unhappiness drinks several beers and then no longer feels tense and unhappy, negative reinforcement has occurred.
Drinking beer removed the unpleasant experience (tension and dysphoria). The removal of the unpleasant experience (apprehension and unhappiness) reinforces drinking beer.
Consequently, the behavior (drinking beer) will likely increase in frequency because it has been reinforced.

Reference
Eric S. Murphy, and Gwen J. Lupfer, "Basic Principles of Operant Conditioning", in The Wiley Blackwell Handbook of Operant and Classical Conditioning, eds. Frances K. McSweeney and Eric S. Murphy (Chichester, West Sussex, UK: John Wiley & Sons, 2014), 171.


---
P
Presumption of competence for VA compensation and pension examiners - The Department of Veterans Affairs (VA) does not need to demonstrate a C&P examiner's qualifications or competence for a claim being heard by the Board of Veterans Appeals, unless the veteran questions the examiner's competence.
---
---
Google Sign-in icon
I value your feedback!
If you would like to comment, ask questions, or offer suggestions about this page, please feel free to do so. Of course, keep it clean and courteous.
You can leave an anonymous comment if you wish—just type a pseudonym in the "Name" field.
If you want to receive an email when someone replies to your comment, click the Google Sign-in icon on the lower right of the comment box to use Google Sign-in. (Your email remains private.)
↓ Please comment below! ↓