Military Sexual Trauma
Advice for Veterans
Military sexual trauma (MST) often causes post-traumatic stress disorder (PTSD), clinical depression, chronic anxiety, and other mental disorders.
This article provides advice for veterans filing or appealing an MST-related disability compensation claim, including suggestions on how to best prepare for the C&P exam.
Top 10 Tips
for Military Sexual Trauma Survivors
1. Get Help
Get help, particularly if you are in crisis. 


---
2. See a Vet Center Counselor
Seek support at a Vet Center. You do not have to suffer in silence any longer. 

"Individuals do not need to have reported the MST incident(s) when they happened or have other documentation that it occurred. ... To receive free MST-related care, Veterans do not need to be service connected – eligibility for MST-related health care is independent of eligibility for other VA benefits. Veterans may be able to receive free MST-related care even if they are not eligible for other VA care. For example, standard length of service requirements do not apply to receipt of MST-related care." - 

VA's Health Care Services for Military Sexual Trauma (MST)
Contact a Vet Center in your area, and let them know where you live. Tell them you are looking for help coping with military sexual trauma.
If the Vet Center is close to you, great. If not, ask if they have any counselors closer to where you live, as counselors often travel to nearby communities.
Click here for more information on Vet Center readjustment counseling services.


---
3. Seek Treatment at a VA Medical Center or Outpatient Clinic
The Veterans Health Administration (VHA) provides free treatment (psychotherapy and/or psychiatric medicines) to MST survivors.

Consider seeking psychotherapy and/or psychiatric treatment via your local VA Health Care System—at a VA Medical Center or VA Outpatient Clinic. See the following web pages for more information:
---
4. Read Veterans Benefits for Post-traumatic Stress Disorder in the United States
Review Veterans benefits for post-traumatic stress disorder in the United States - an excellent Wikipedia article that provides a succinct overview, with links to more information.


---
5. Ask Someone to Help You with Your Disability Claim
Ask a friend or family member to help you file a disability claim for PTSD due to military sexual trauma. This is a stressful process and you will benefit from some assistance and support. Plus, "two minds are better than one", especially when there are so many details.
If you do not have a Veterans Service Officer yet, see this National Veterans Foundation (NVF) article for information about finding one: Veterans Service Officers. NVF also offers personalized help if you contact them. 
---
6. Find a Veterans Service Officer You Trust
Find a Veterans Service Officer to help you file a disability benefits claim for MST. Finding a Veterans Service Officer is not as easy as it should be. And it will take some time to build trust. (If you do not trust your veterans service officer, find another one.)
The National Veterans Foundation (NVF) has good advice here: Veterans Service Officers. They also offer personalized help if you contact them. 
VA Claims Information (a great website created by a veteran's wife) has a nice short (but helpful!) article: "How do I find a good VSO?"


---
7. 

Contact a VBA Military Sexual Trauma Coordinator 
VBA Military Sexual Trauma Coordinator - Also ask for assistance from a Veterans Benefits Administration (VBA) MST Coordinator. VBA provides a list with email addresses for all MST Coordinators across the country. 
---
8. 

Educate Yourself
Educate yourself by reading the following posts or articles on other websites:

Introduction To Navigating The Convoluted System Called VA Compensation on The-Military-Guide.com
Violence and Abuse - Information about the effects of child abuse, domestic violence, and sexual assault, from the National Center for PTSD.
National Center for PTSD - I suggest browsing the entire website at because it has dozens of great articles and other resources, like the PTSD Coach and several other apps that have become quite popular among veterans.
Swords to Plowshares Self-Help Guides - Read online or download PDF copies. These guides have not been updated for a few years, but most of the information is still relevant. These three guides are the most pertinent to filing a PTSD disability claim for military sexual trauma.
Online Resources for Veterans - Longer list of resources on this website (PTSDexams.net)
Learn about a new law (January 2021) that should make it easier for MST survivors with mental disorders other than PTSD to get service connected disability benefits: 
MST that Causes Depressive, Anxiety, & Other Mental Disorders Now Covered - Not Just PTSD


---
9. 

Ask Other Veterans for Advice
Seek support and suggestions from other veterans. 
Veterans Benefits Network Forums – You will read a variety of views and opinions, but overall, the vets on this forum provide very accurate information and superb support to fellow veterans. 

Note that the forum uses the Tapatalk platform, so when you register—which you must do if you want to post a question—it will be on the Tapatalk website.  


Veterans on Veterans Benefits - Well-moderated Facebook group.
---
10. 

Keep Reading this Article
Read the rest of this article (scroll down) for more information on filing a VA compensation claim for military sexual trauma.
Also see C&P Exam for PTSD (Combat), since many of the suggestions are the same for both types of PTSD exams.


---
Male Survivors of Military Sexual Trauma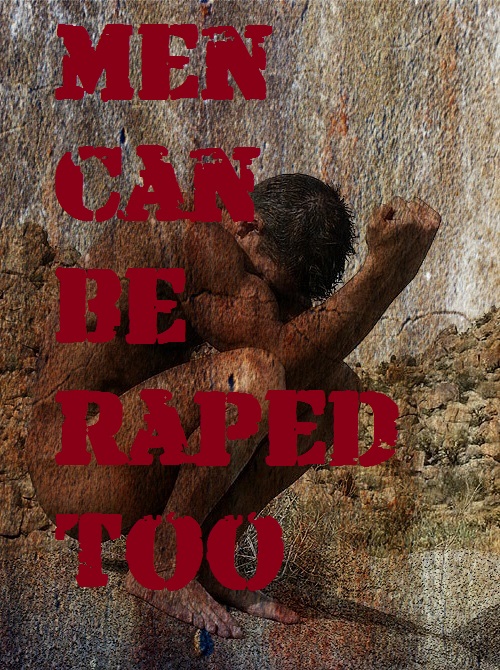 "Men Can Be Raped Too" - digital art by on-the-jasmine-wind, © 2014–2019 Sidney Gonzalez, reproduced by permission.
Approximately 200,000 male veterans alive today endured sexual assault during their military service.

Most of them suffer in silence.
But that does not have to be the case.
For example, see Six Men Tell Their Stories of Sexual Assault in the Military, published by the New York Times on 10 Sep 2019.1

Free Mental Health Treatment for Military Sexual Trauma Survivors
Before I offer advice about the VA disability benefits claim process, I want to make sure you know that you can receive free professional help from VA.
If you suffer from PTSD or any other mental disorder (such as depression, anxiety, panic attacks, or agoraphobia) due to military sexual trauma, you can receive free mental health treatment, whether or not you are service connected for a mental disorder, at any VA medical center, outpatient clinic, or Vet Center.
There are different types of mental health treatment available at the VA. For example:
Individual psychotherapy with a trauma specialist
Group counseling with other MST survivors
Psychiatric medication
You can participate in one or more treatment modality.


---
Filing a VA Disability Benefits Claim for PTSD due to Military Sexual Trauma
See the following resources, which provide detailed information about filing a disability claim with the Veterans Benefits Administration (VBA).

How to apply online via the VA's eBenefits website (PDF)
Disability Compensation for Conditions Related to Military Sexual Trauma (MST) - VA Fact Sheet (PDF)

VA Form 21-0781a - Statement in Support of Claim For Service Connection for Post-Traumatic Stress Disorder (PTSD) Secondary to Personal Assault
Was your MST-Related VA Benefit Claim Denied in the Past? Learn about Special Review Process (from Stateside Legal)


---
Obtain All Relevant Records
The C&P psychologist or psychiatrist, whether your exam is at a VA medical center or with a private doctor who does exams for a third-party MDE (Medical Disability Examination) company, will have computer access to all your VA treatment records.
If you saw a private psychiatrist, family doctor, psychologist, therapist, counselor, or enrolled in a substance abuse treatment program, and you talked about military sexual trauma and its effects (symptoms), try to obtain those records, as they may prove quite persuasive.
Note that 'symptoms' can be psychological or physical (medical) symptoms. Sexual assault survivors experience a much higher rate of medical problems than average.
Some of the problems are sexual in nature, such as loss of libido (sexual desire); vaginismus; anxiety in sexual situations; erectile dysfunction; bowel disorders; rectal bleeding; etc.
Other medical disorders are not sexual in nature, such as cluster-type headaches and gastrointestinal distress. (Of course, there can be other causes for those conditions, but it is something to consider and to discuss with your doctor if they are still a problem for you.)
Also make sure that VBA (Veterans Benefits Administration) has requested and received all of your military personnel records.
You can request your military personnel records yourself if VBA does not have them already. Review your personnel records for behavioral markers.


---
Behavioral Markers
Review the 'behavioral markers' for military sexual trauma that might apply in your case.
First, review the federal regulation that addresses behavioral markers in MST-PTSD disability claims: 38 C.F.R. § 3.304(f)(5)
That regulation indicates that you may submit:
Records from ...
law enforcement authorities
rape crisis centers
mental health counseling centers
hospitals or physicians
pregnancy tests or tests for sexually transmitted diseases
Statements from ...
family members
roommates
fellow service members
clergy
Evidence of behavior changes following the claimed assault is one type of relevant evidence that may be found in these sources.
Examples of behavior changes that may constitute credible evidence of the stressor include, but are not limited to: 
a request for a transfer to another military duty assignment
deterioration in work performance
substance abuse
episodes of depression
panic attacks
anxiety without an identifiable cause
unexplained economic or social behavior changes
Ask your friends or family members to review the list of behavioral markers, in case any of them apply in your case, so that they can comment on them specifically.
Also review all this information with your Veterans Service Officer and ask for his or her advice. 


---
Lay Statements
It is also very helpful to submit lay statements (lay is short for lay witness, i.e., a non-expert who provides testimony in a legal case), if possible, from men or women with whom you served, who noticed changes in your mood, demeanor, behavior, and outlook after the sexual assault(s) or harassment.

Also try to obtain lay statements from family members or friends who observed how the assault(s) or harassment affected you over the years, even if they did not know the reason at the time. Friends and family members should write their lay statement on VA Form 21-4138 (Statement in Support of Claim).
Mail to the VBA Claims Intake Center via Certified Mail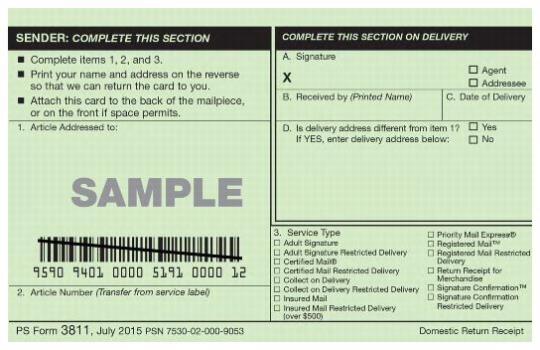 Return Receipt Postcard for Certified Mail
Mail the statements and any other relevant documents to the VBA centralized intake center: 
Veterans Benefits Administration
Claims Intake Center
PO BOX 4444
JANESVILLE, WI 53547-4444
Go to your local U.S. Post Office and mail your letter via Certified Mail, Return Receipt Requested.
If you are not sure how to do that, go to the Post Office at a time when it is less busy and ask the clerk for help. You might tell the clerk you are a veteran as most folks like to help veterans, and many U.S. Postal Service employees are veterans too. 
Certified Mail with Return Receipt services cost more—an extra $6.40—but are well worth it because you will have proof that VA received your letter.

---
Preparing for Your C&P Exam
Keep an open mind about your upcoming C&P exam. Yes, you might receive a 'bad' examiner who does not understand the suffering MST survivors experience. On the other hand, you might see a good examiner who will conduct a thorough, objective, and compassionate evaluation.

You have a right to request a female or male examiner, if you have a preference. Call the VA medical center or the MDE company (QTC, VES, LHI, VetFed) where your exam is scheduled to make such a request. If you have trouble reaching them, ask your Veterans Service Officer for help.


---
After the C&P Exam
If you C&P exam was conducted at a VA medical center or outpatient clinic, you can probably request a copy of the exam report at your VA medical center's Release of Information office, or via the Blue Button feature on MyHealtheVet. Your C&P exam report might not be available via these methods until after VBA makes its decision on your claim(s).

If a contracted examiner in private practice conducted your C&P exam (via a third-party MDE company), you must request a copy of your C&P exam report from the Veterans Benefits Administration (VBA).


---
If VBA Denies Your Claim
If your claim is denied, or if you believe the disability rating (percentage) assigned by VBA is inaccurate, you can appeal the decision.
The appeals process requires detailed knowledge of relevant laws and legal procedures. I highly recommend finding a good veterans law attorney to represent you on appeal.


---
Legal Representation
If you decide to appeal your decision to the Board of Veterans' Appeals (BVA), or if you need to appeal a BVA decision to the Court of Appeals for Veterans Claims (CAVC), I recommend finding an experienced veterans lawyer to represent you on appeal. 
Here are some ways to find a veterans law attorney.

Unless they agree to work on a pro bono basis (see below for pro bono programs), attorneys and claims agents who represent veterans before the Veterans Benefits Administration, Board of Veterans Appeals, and Court of Appeals for Veterans Claims require payment for their services.

Most attorneys will agree to receive payment after your appeal is decided, and only if you 'win' your appeal, from a percentage of back-pay you receive, according to requirements set forth in the Equal Access to Justice Act.

These are attorney fees ordered by the court to be paid by the federal government when the government's position in litigation was not "substantially justified."


Ask other vets if they know any good veterans attorneys.


Also ask your Veterans Service Officer (Representative) if he or she can recommend a veterans lawyer.
Note that a veterans lawyer does not need to have an office in your state of residence, since these are federal proceedings, although they do need to have been accredited by VA.


---
Footnote
1. Dave Philipps (writer) and Mary F. Calvert (photographer), "Six Men Tell Their Stories of Sexual Assault in the Military", New York Times (10 September 2019).


---

Google Sign-in icon
I value your feedback!
If you would like to comment, ask questions, or offer suggestions about this page, please feel free to do so. Of course, keep it clean and courteous.
You can leave an anonymous comment if you wish—just type a pseudonym in the "Name" field.
If you want to receive an email when someone replies to your comment, click the Google Sign-in icon on the lower right of the comment box to use Google Sign-in. (Your email remains private.)
↓ Please comment below! ↓